Dear friends, I salute you from Venezuela, I am a collector of vintage watches and recently I found this piece I commented that in reviewing his motion ohhh surprise, is a RADO, the most strange is that when reviewing this site I find many questions, first I want to know if RADO established business relationship with FIJO[img]
[/img], it seems that something strange was this situation, also the fact that the movement is an AS 1789, with his knowledge maybe you can tell me that could have happened here.
thanks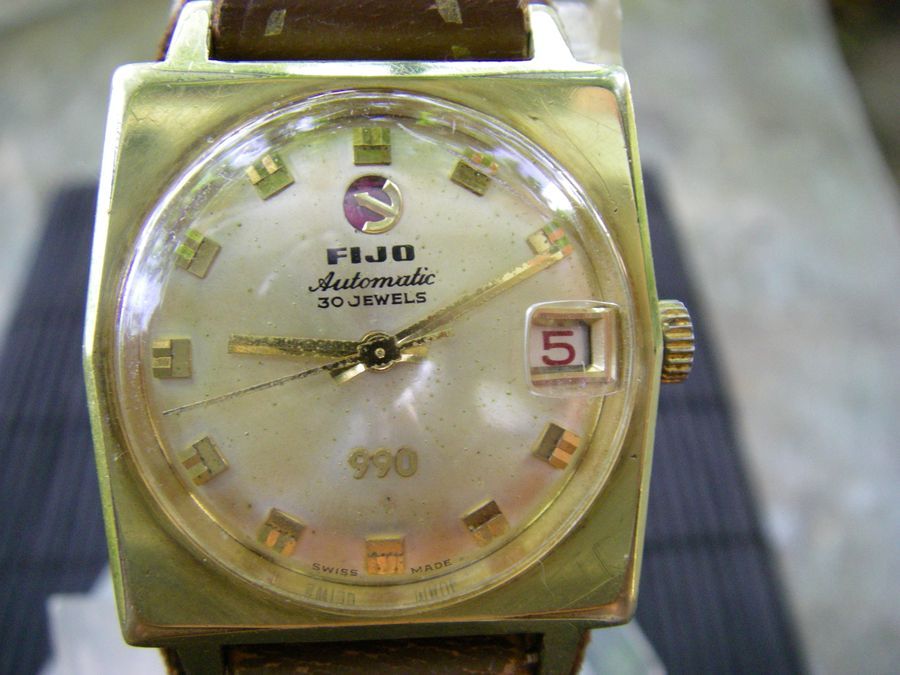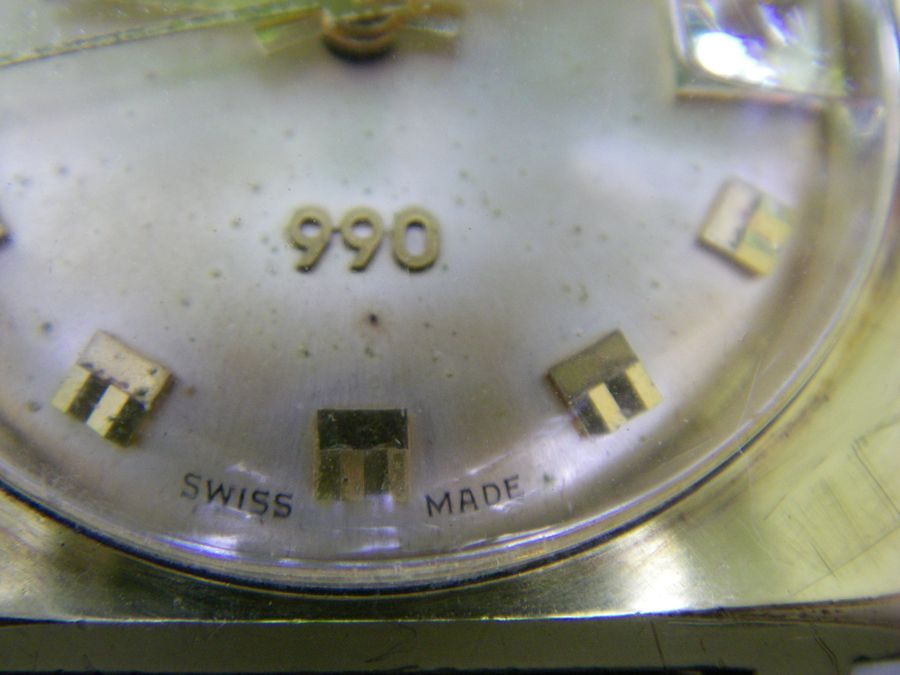 zuletzt bearbeitet
30.07.2012 10:00
|
nach oben springen
Hi & welcome!


I fixed the links to the images of your watch in your post, so they are visible now.

It´s a very nice GP Rado 990, from the pics I can´t see anything wrong with it. Everything looks authentic and original except the acrylic crystal, which probably had been replaced at some time(it doesn´t wear the small anchor-logo in the center and I haven´t seen a crystal with date loupe on a 990).

Especially the dial shows some traces of aging and looks 100% original, which indeed leads to the question "who is FIJO?".
To be honest, it´s the first Rado I see with FIJO instead of RADO on the dial and I never heard anything about that. A short research in the www delivered nothing except the translation of the Spanish word "fijo", a city in Venezuela called "Punto Fijo" and a foundation in Brazil called FIJO, but that is too young to stand in any relation to this 990, which is made in the middle/late 1960s.
There´s just a little bit info to find about the history or business relationships of Rado and nearly nothing about their business in South America.
What I know is that Rado made a lot of private labelled watches, which means that the watch is a Rado but with a customised dial, being ordered in smaller or larger quantities by special customers.
A few examples:
The Italian importer of Rado in the 1950s/1960s, a company called Ticin, offered Rados with "TICIN" instead of "RADO" on the dial. There are also a few other distributors known with their names instead of or additional to RADO on the dial.
I know a few examples of Rados with a (not watch-related) company name on the dial, those have been gifted to business partners or merited employees.
In Arabia, you find a lot of customised Rados being gifted by nobel houses or official institutions.
So my assumption is that Fijo had been either a distributor of Rado in a South Amarican country or just a company/institution, which ordered a number of Rados with their name on the dial.
Did you buy that 990 in Venezuela or from another country in South America? Maybe with these infos you can find out a bit more - my Spanish is unfortunately limited to a touristy minimum("una cerviza, por favor!"
). Would be interesting to have this question answered.

The movement is a very nice AS 1789 with 30 jewels, the highest quality standard and it looks to be in top condition. The basic calibers had been the AS 1580 and the AS 1701(= 1700/01). The 1701 and the 1789 use the same base plate, that´s why you often find an additional 1700/01-mark on it. The 1789 came out in 1965, which confirms my dating.
The 11764 on the back is a correct reference number for this model, a 990 with edged case and date.

Here´s a pic of my 990 day/date in SS:


---
Mit freundlichem Gruß/With best regards
Mike
zuletzt bearbeitet
31.07.2012 12:43
|
nach oben springen
Thanks for such a complete and pleasant answer, I also think it might be a brand for so-called fantasy, a particular case in Venezuela existieror dealers placed their names such caracas cyma pearl, pearl mido caracas, serpico Laino Rolex to name a few and if you like to see the pictures let me know and gladly show you, your Spanish is good as my English TAMN.
Thanks for your time to answer my concerns.
greetings from Venezuela, Margarita Island
nach oben springen
#4
RE: COULD HELP?
in Everything Vintage RADO
31.07.2012 05:41
von
Henry Krinkle
•
| 60 Beiträge
---
zuletzt bearbeitet
31.07.2012 05:44
|
nach oben springen
Hi!

@vomrotw - you´re welcome! Would be interesting to see some pics and to learn a bit about the market for vintage watches in South America.

@Henry - google seem to work better in Canada than in Germany - I couldn´t find a single watch with FIJO on it´s dial.
---
Mit freundlichem Gruß/With best regards
Mike
nach oben springen
Besucher 0 Mitglieder und 2 Gäste sind Online

Wir begrüßen unser neuestes Mitglied:

andreawinslet

Forum Statistiken
---