Hi!


Back from Baselworld 2013. It was a hard drive and an overwhelming experience.
It was pouring with rain last Saturday, so the 5 hours driving on the motorway with lots of roadwork has not really been a pleasure. We started at 3:00, arrived at 8:00, had a breakfast and spent the day at the fair. Exactly in time for our way back, the rain came again - we started at 19:00 and were back at 23:30.
The fair is large - impossible to watch everything interesting inner one day. So I reduced my photo activities almost to the Rado booth and visited as much as possible, trying to motivate my kids, who didn´t want to see even more watches after a few hours. ;)

Interesting architecture, the new bulding with the new main entrance, which had been built inner the last year.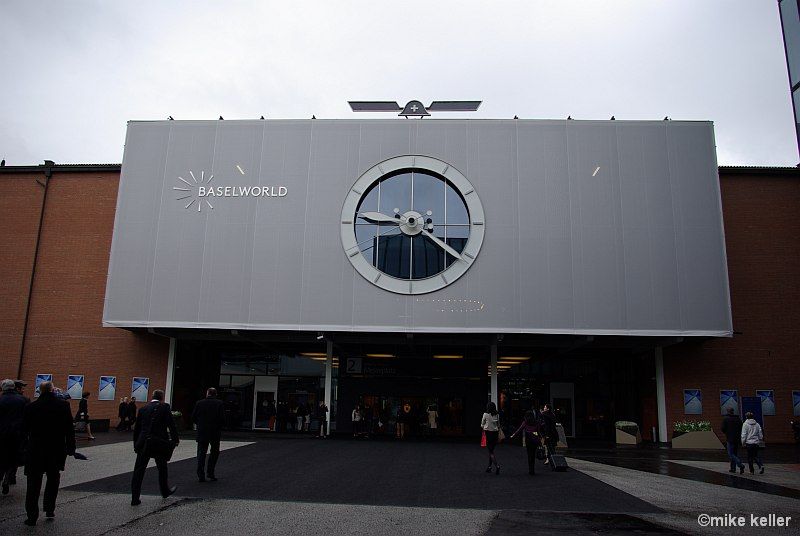 Old main entrance


New building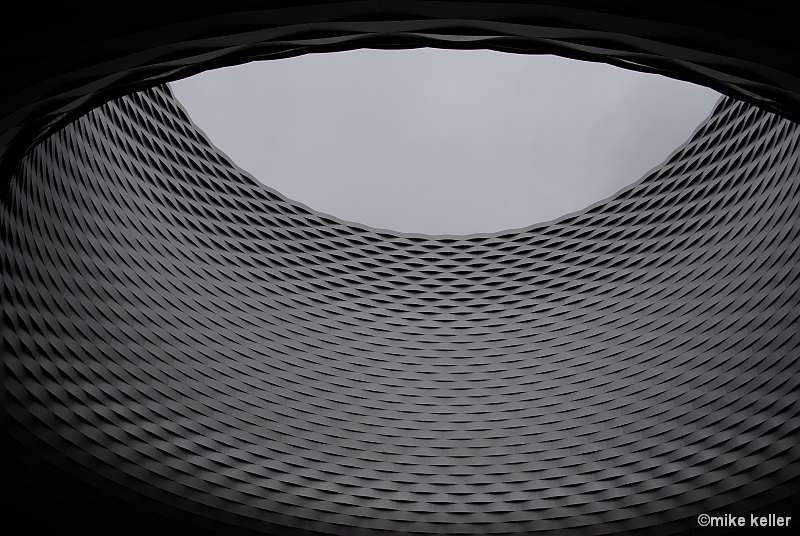 New building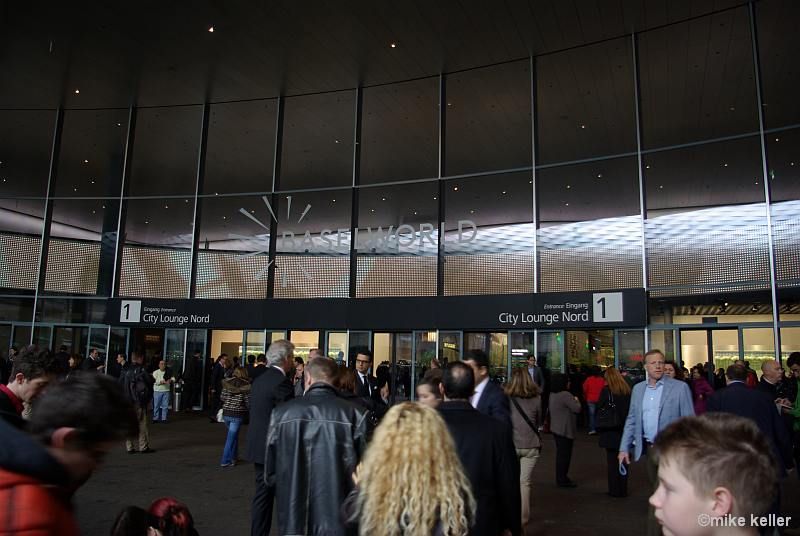 New main entrance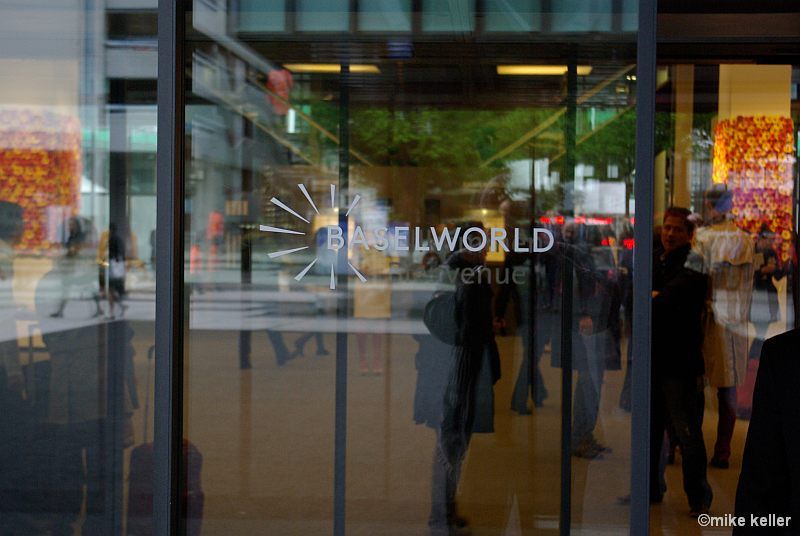 New main entrance


Nice McLaren at the Tag Heuer booth

I actually didn´t plan to visit the fair this year, but was invited by Rado. They are researching about their history at the moment and so came to my HP and finally contacted me.
So I have to thank Rado for an interesting day. I got a conducted tour around the Rado booth and had an interesting meeting with some of their marketing people and with CEO Matthias Breschan.
He is a very nice and professional guy and IMHO found exactly the right way for a successful future of Rado - building a bridge between the amazing designs of the past and the modern production with high-tech materials. Looking forward to the future but being conscious about the own history.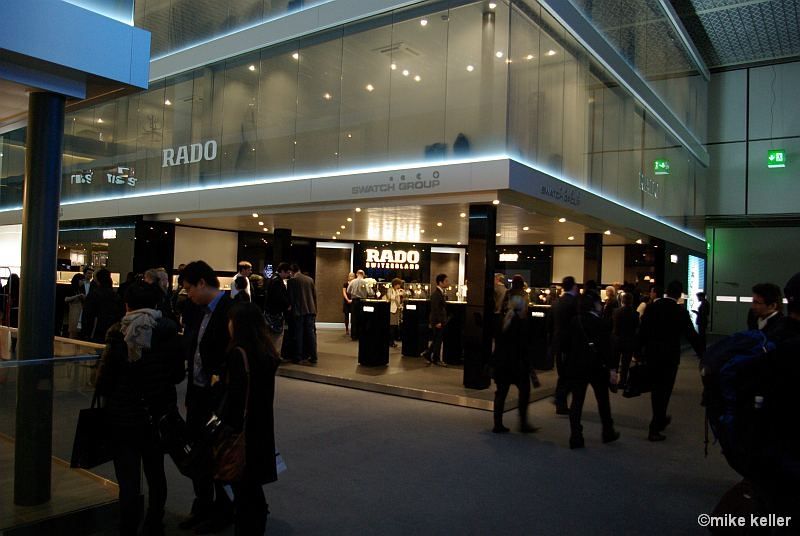 Rado booth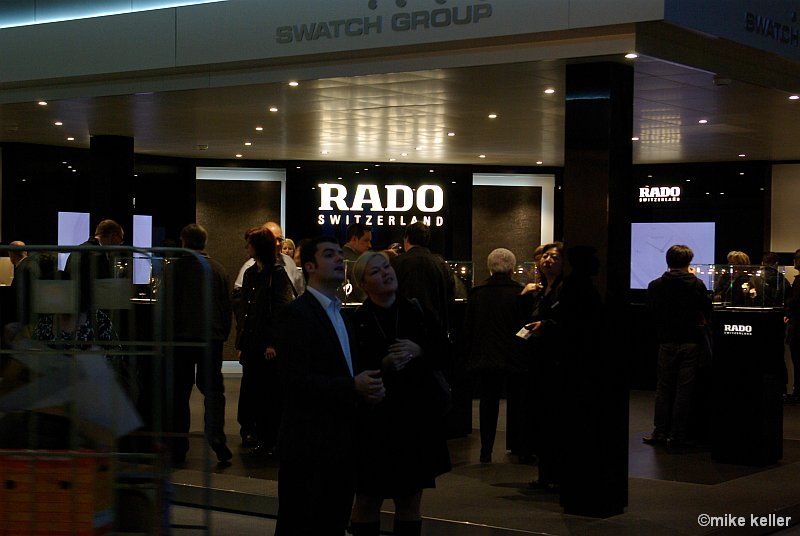 Rado booth

What they showed: The Hyperchrome line with the Glam Slam-, UTC-, Court- and "normal" models, the DiaMaster line with the sensational RHW1, the D-Star line with the amazing Split Second chronograph, the True Thinline and the Esenza line with the interesting ladies´ Esenza Ceramic Touch.
I will show them - model line by model line - with a mix of own and Rado pictures and the info I received.
---
Mit freundlichem Gruß/With best regards
Mike
The new DiaMaster line looks very interesting. Very clear designs, both cases and dials. They look very worthy.
Here´s Rado´s press release:


Zitat

---

The new Rado DiaMaster collection

The new face of a Rado legend

(Lengnau, Switzerland – April 2013) DiaMaster is a name that has long been
associated with Rado, having graced several super scratch-resistant collections over
the years.

In 2013 Rado presents a DiaMaster collection in high-tech ceramic for the first time
ever. This is a complete redesign, with only the name remaining from the collections
that went before. But the new DiaMaster promises to appeal to DiaMaster diehards
and new enthusiasts alike.

Subtle, minimalistic and chic are the key words when it comes to the design of these
simple, pared-down ceramic beauties. The new face of Rado has a new face of its
own: large open dials for easy readability and an unobscured view.

The ladies collection comprises eight classy quartz models. The collection offers
something for every lady – regardless of style. For those who like to look white hot
there is an all white model with white ceramic case and white satin strap. Black
ceramic features on two models and there is a glittering metallic-look model in
plasma high-tech ceramic – which is exclusive to Rado – with 93 Top Wesselton
diamonds on the dial. Brilliant.

For gents there is a full range of quartz and automatic models to choose from, each
offering clean lines and large, open dials. The plasma high-tech ceramic case on
leather strap offers a daring mix of modernity and old school chic.

There is also a set of five manly, supersized chronographs presented in polished
black, or plasma high-tech ceramic, as well as a bold and breathtaking full matt black
model. With one of these on your wrist time will always be on your side.

Plasma treatment – 21st century alchemy

Plasma high-tech ceramic creates a striking and mysterious metallic brilliance, in a
warm grey colour, without the use of any metal. The plasma carburising process is
patented and exclusive to Rado and is a form of modern alchemy. Gases activated
at 20,000˚C alter the composition of high-tech ceramic without affecting its essential
properties. Although only the surface colour of the ceramic is changed as the
metallic finish emerges from each piece, it will not fade over time, instead retaining its
naturally scratch-resistant shine for years to come.

The DiaMaster may look very different from previous collections but the name alone
stands for guaranteed Rado quality and outstanding Rado design.

Facing the future with a brand new look.

---


I´m sure you will recognise the design of the bracelets and the markers when comparing with some of their famous vintage designs.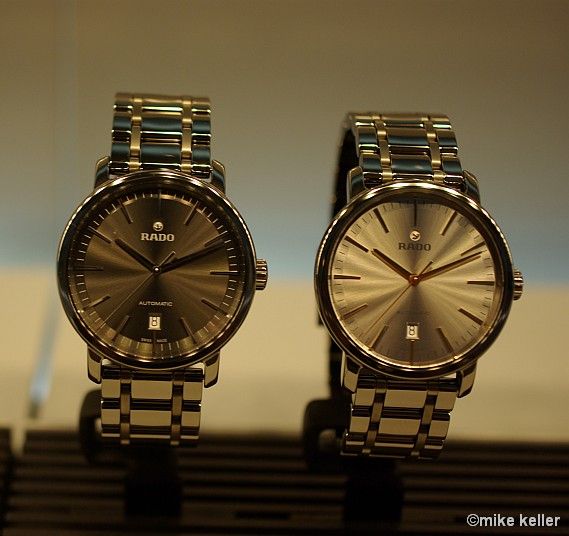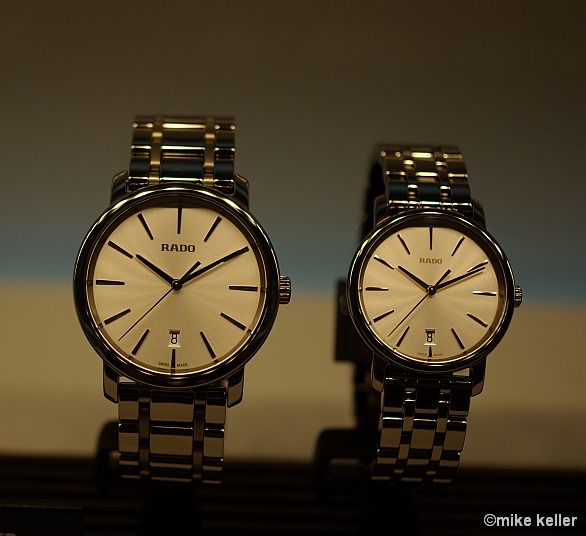 "Back to leather" is also a topic - new high grade leather bands are offered with a lot of models.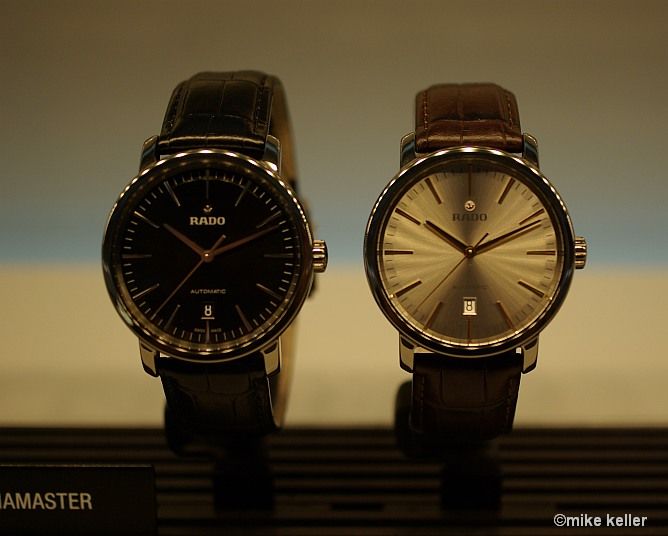 Also very nice: The chronographs. With the very small subseconds, their look reminds to the old chronographs with only two subdials.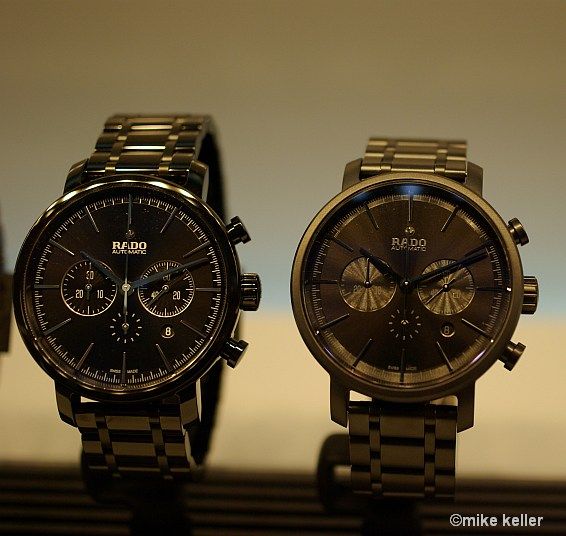 For me the highlight: The DiaMaster RHW1 Limited Edition. The particular design is surely splitting - you love it or you hate it. ;)
I love it. The Roman cyphers XII, III, VI united to one style element with the subsecond on the 9 and the moving anchor above but still inner the 3 looks brilliant and ingeniuos for me.
The case has a decent bronce colour, which increases the vintage character of the watch. And seems to be fashion, you see a lot of bronce cases everywhere at the moment.
What you can´t see on the pics - the case, though it has a very massive presence(45 mm), is ultra light, made from a new high-tech ceramic with half the weight of the one we already know.
Inside Rado´s RHW1 movement, obviously based on the ETA/Unitas 6497-1 and made from black anodised hard aluminium. Nice to see, the case has a look-through back.
The whole watch has a weight of just 68 g! It will come in September and will cost around 4.100.- €.
Rado´s press release:


Zitat

---

Rado DiaMaster RHW1 Limited Edition

Modern materials and a masterful movement for ultimate lightness

(Lengnau, Switzerland – April 2013) The ability to reinvent, constant innovation and
pushing the boundaries to effect real change. If this is Rado, then the Rado
DiaMaster RHW1 Limited Edition is the epitome of the brand.

The show-stopping stand out piece in a collection of pared-down design watches, the
Rado DiaMaster RHW1 mixes the Rado business of high-tech materials with the
pleasure of adding something new in the world of watchmaking - this time an unusual
movement for a high-tech ceramic watch.

Chosen for being twice as light as standard ceramic, Si3N4 TiN is a form of high-tech
ceramic composite that Rado has researched and developed in its latest quest for
innovation. Made by heating the mixed powders at 1800 degrees Celsius in an over
pressure atmosphere of nitrogen, it is known for its superior wear-resistance.

The 'old bronze' colour gives the watch case a rugged, lived-in appearance. This is a
watch that seems to have a story or two to tell about where it has been. The choice
of leather for the strap adds to the windswept and mysterious appeal of this
undeniably cool and manly timepiece.

Hard as nails, light as a feather

The materials may give this DiaMaster its look, but it is the movement that gives the
watch its soul. Rado innovations are usually seen in the materials used for the
outside of our watches – this DiaMaster also has a Rado innovation on the inside.

Aluminium movements were used in pocket watches in the late nineteenth and early
twentieth centuries because of their lightness. It was this past trend and focus on
lightness that inspired Rado to use such a movement – the RHW1, which is exclusive
to Rado – for the first time in an extremely light and high-tech wristwatch.

As ever, the Rado designers have given this limited edition a modern twist to create a
watch that oozes 21st century style.

Rado: typically unconventional ideas lead to outstanding design.

---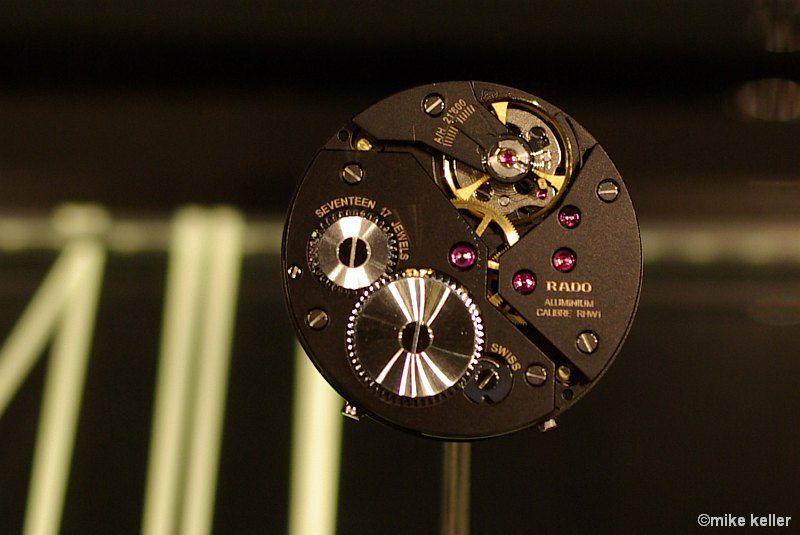 At least, the pics from Rado´s press release: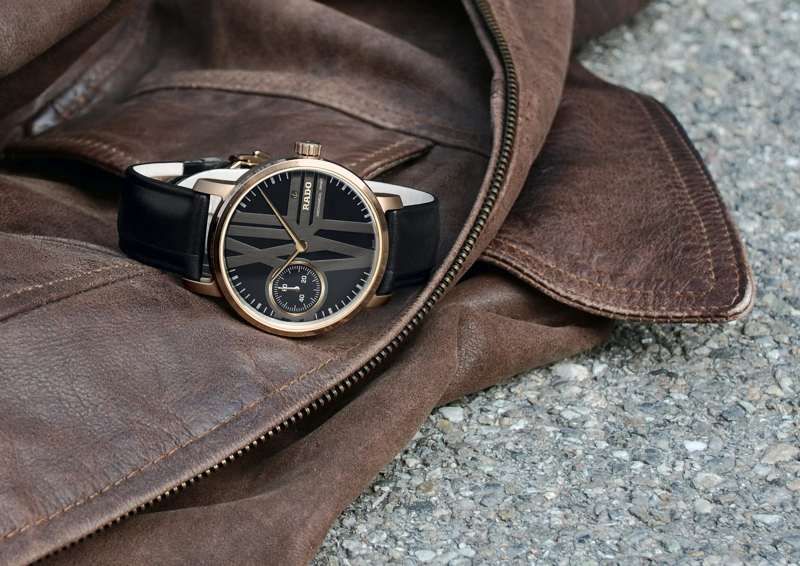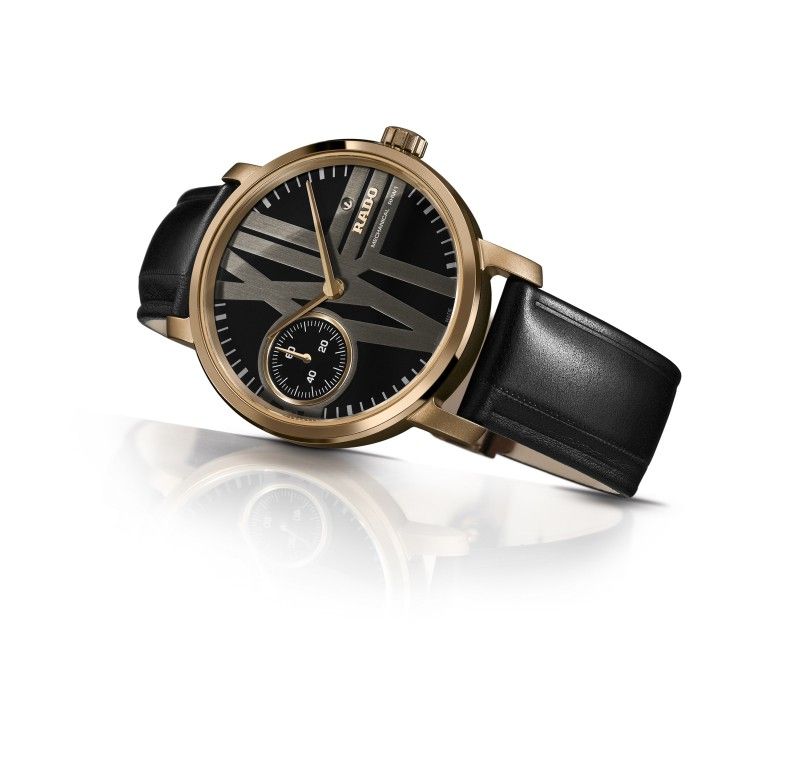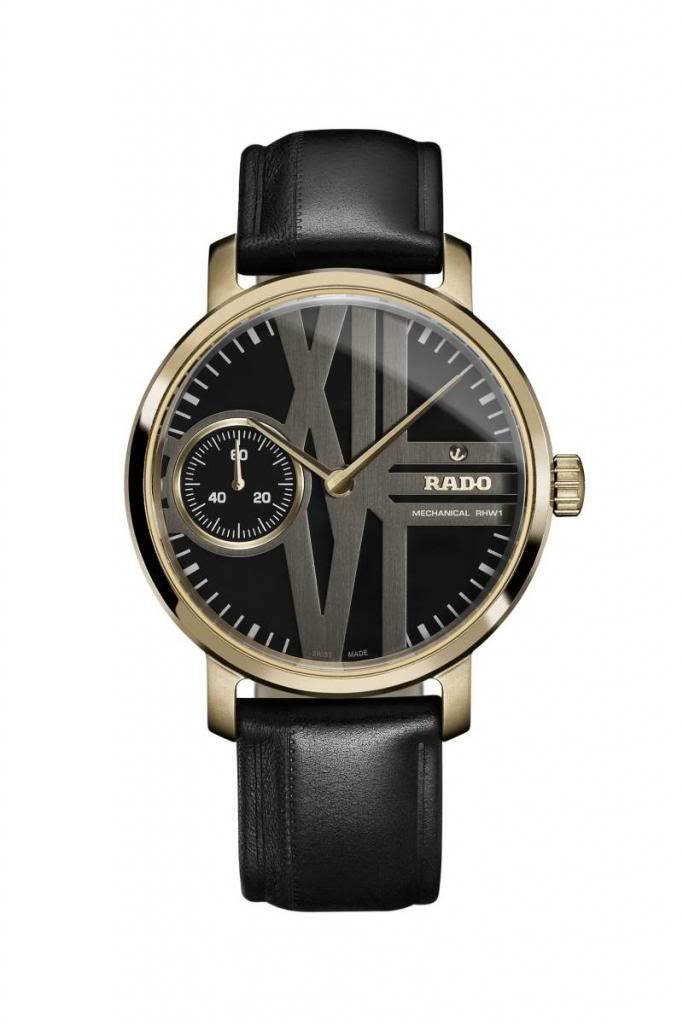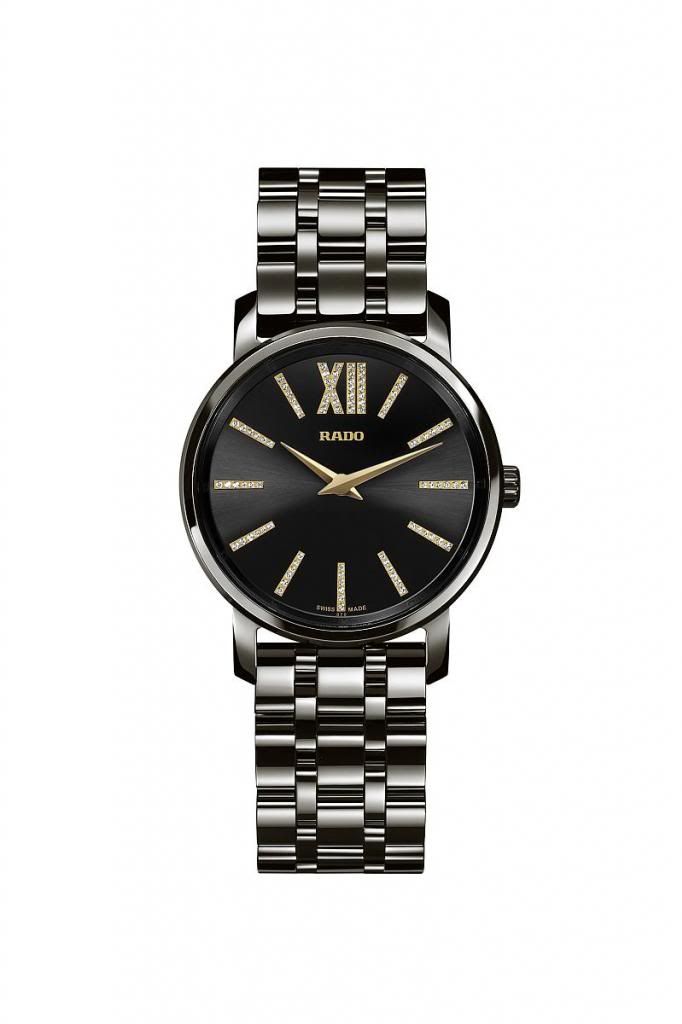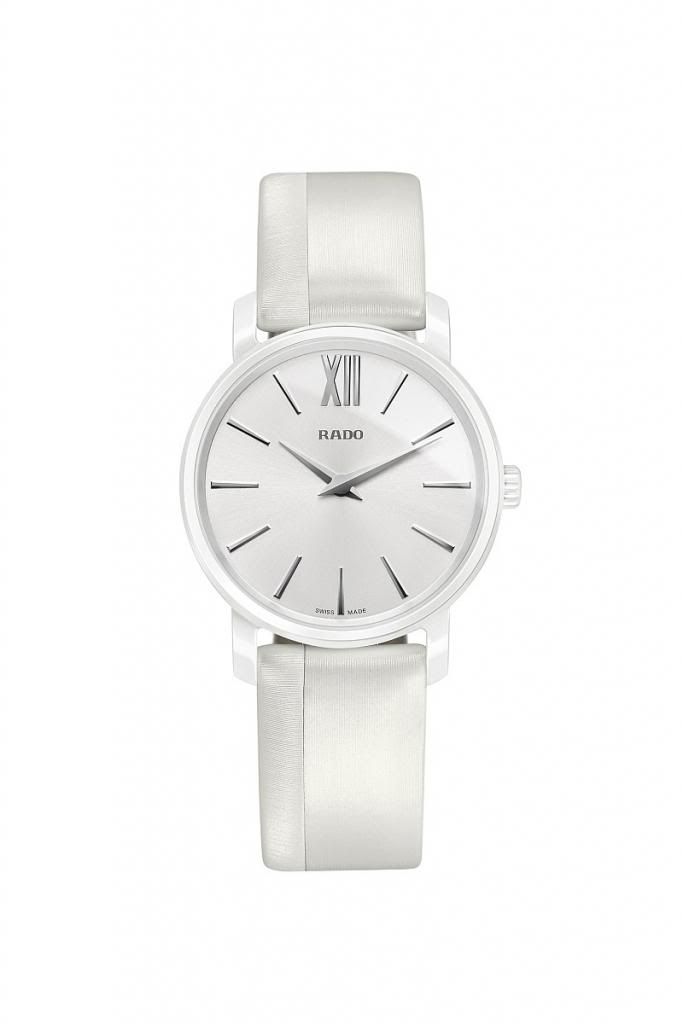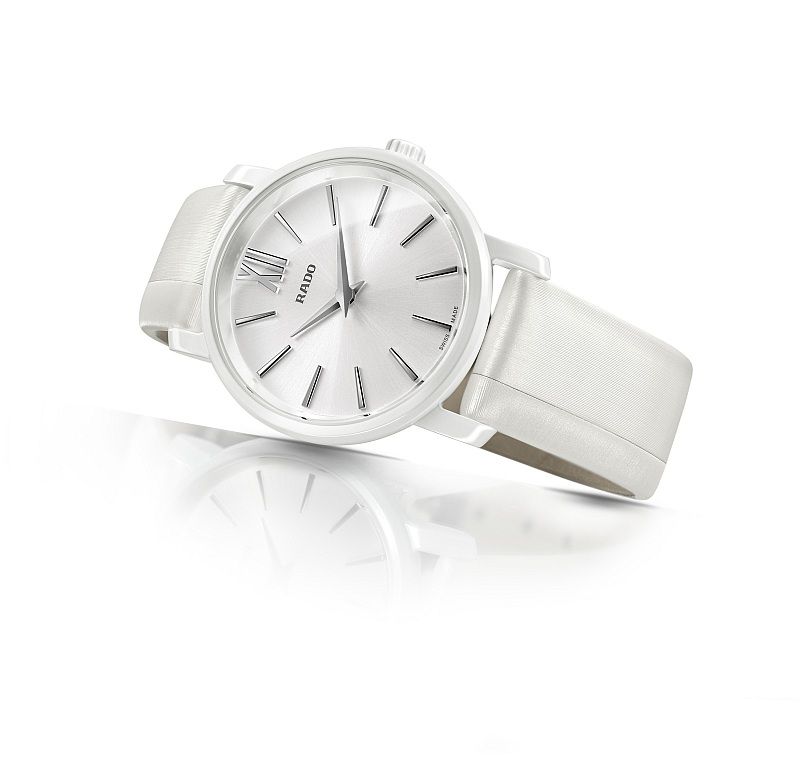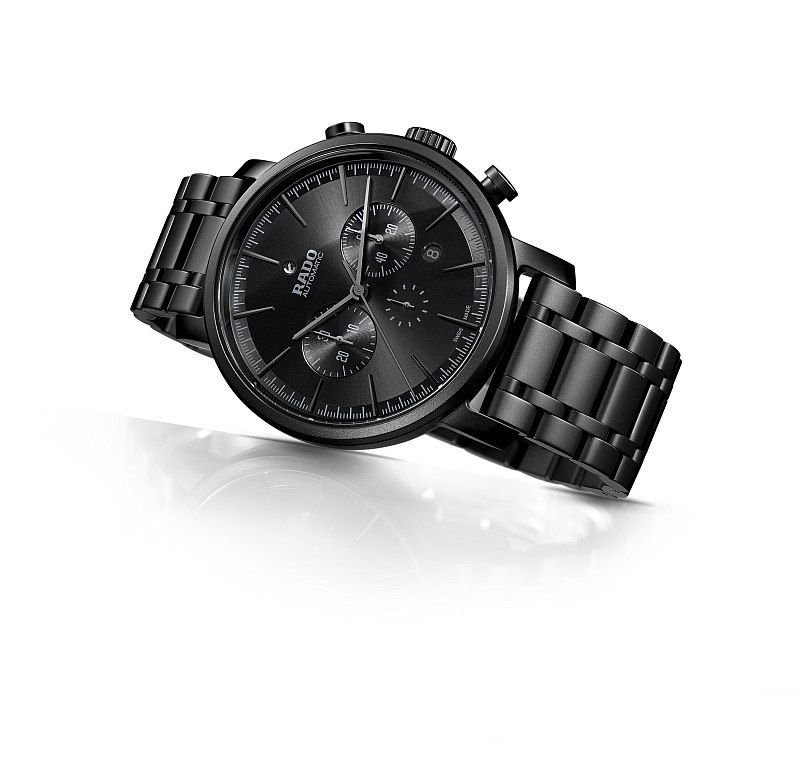 ---
Mit freundlichem Gruß/With best regards
Mike
zuletzt bearbeitet
11.05.2013 00:07
|
nach oben springen


Beside the HyperChrome models we already know, there had been the UTC models(2nd time zone), the Court models("summer chronos" with colourful accents) and the Glam Slam models(chronos with massive gold inlays for him and with diamonds for her). Inside the chronographs is an automatic ETA 2892-A2, they are waterprotected up to 10 bar.

Very interesting, a view on the production of a HyperChrome case: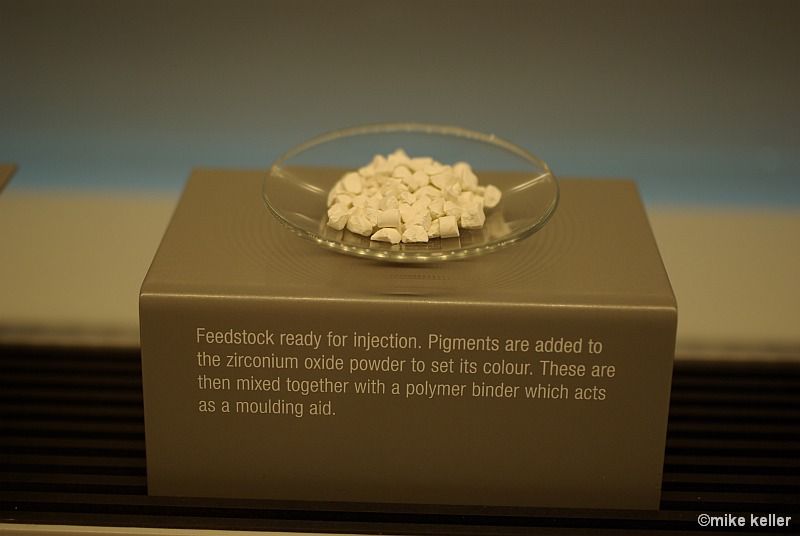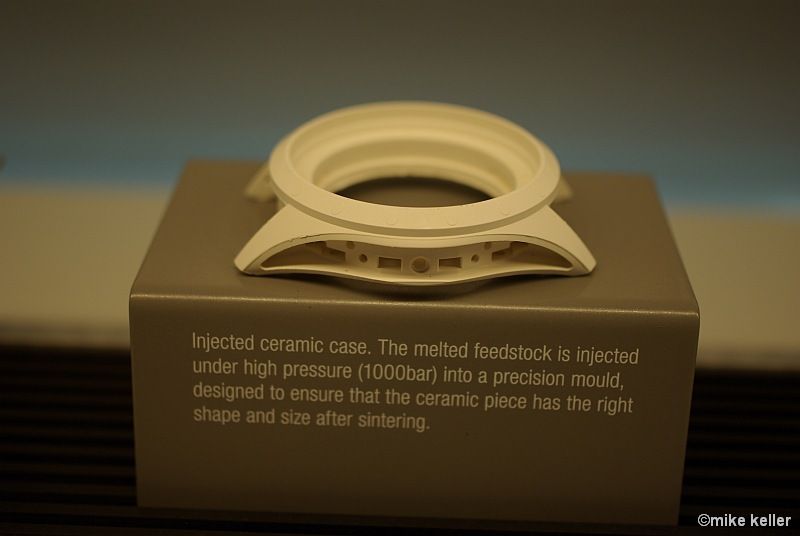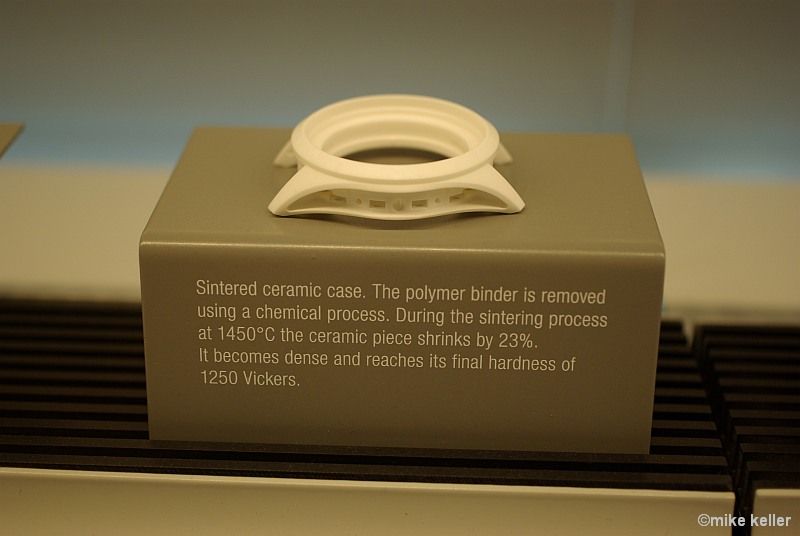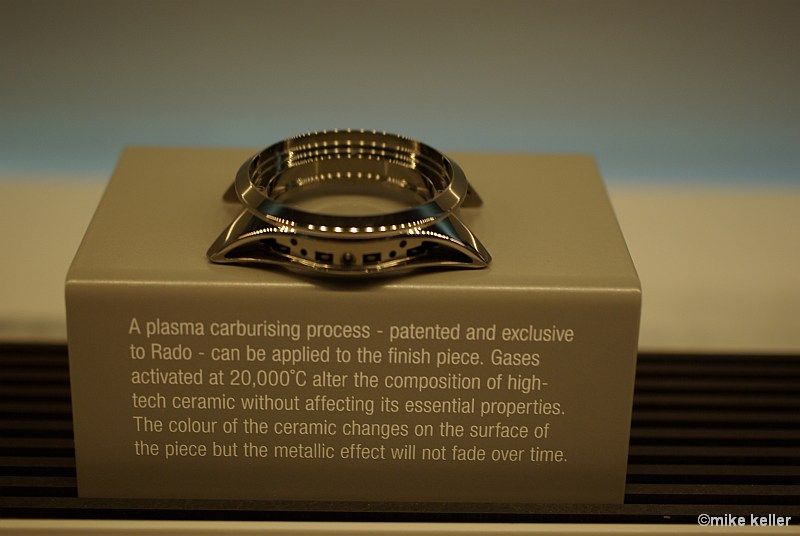 Here the HyperChrome UTC models: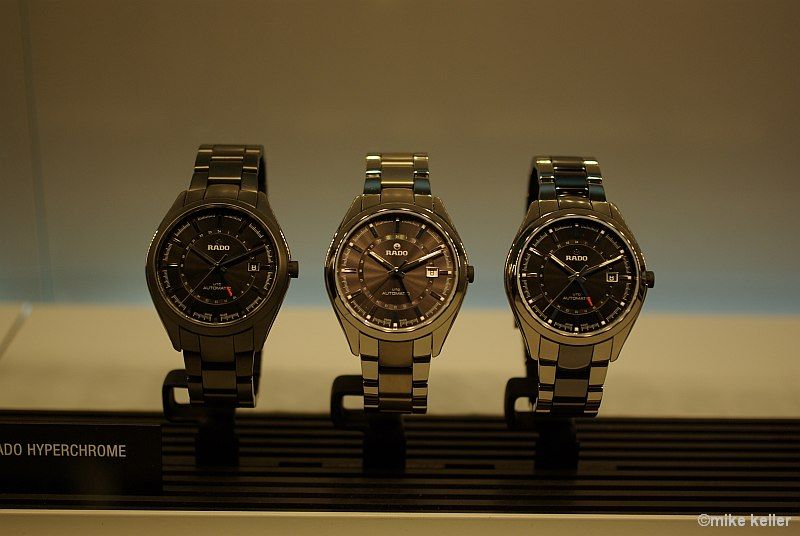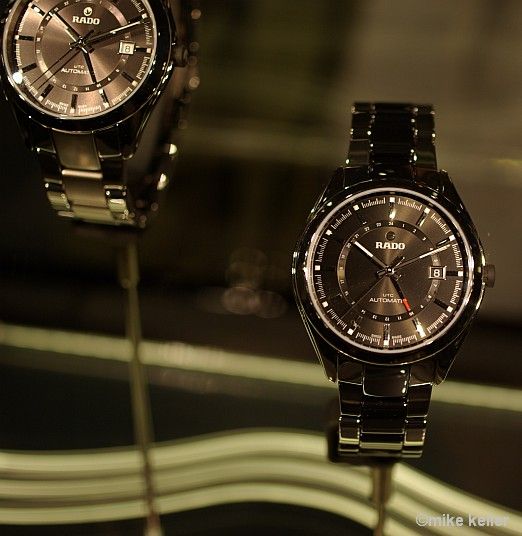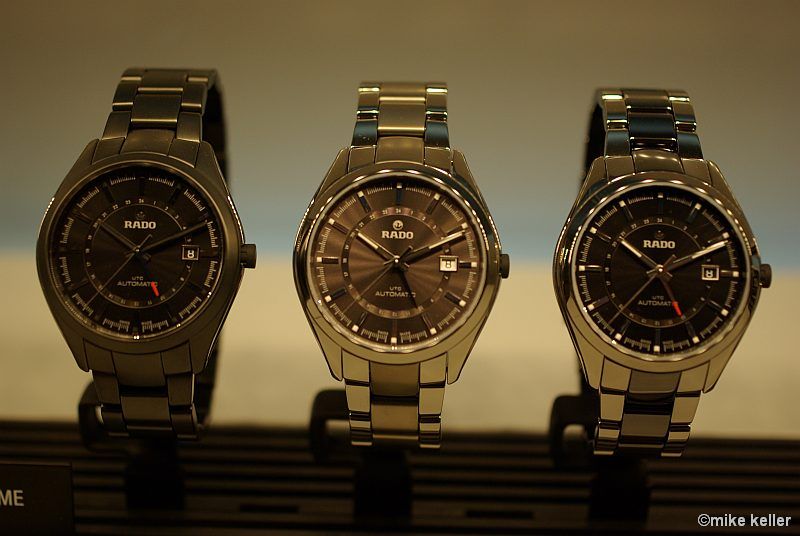 Rado´s press release and pics:


Zitat

---

Rado HyperChrome UTC

The Ultimate Travelling Companion

(Lengnau, Switzerland – April 2013) The world is becoming a smaller place and many
of us are travelling more for business and pleasure. But what does the twenty-first
century traveller really need when hopping on a plane?

There are only a handful of essential items that no traveller should be without and an
accurate watch is one of them. But what is more important: knowing the time at your
destination or the time back in your home country so you know when it is OK to call
friends, family and business contacts without waking them up?

With the new Rado HyperChrome UTC there is no decision to make as the watch can
show two different time zones at the same time. UTC stands for Coordinated
Universal Time and is a more accurate take on the traditional 'GMT'. At Rado, two
different time zones also ensure double the style, making this the ultimate travelling
companion for fashionable jet setters.

A second time zone on a Rado watch is a rare feature, appearing only on
multifunction models and one watch from the 1960s. So, the UTC movement marks a
rare foray into complications for the Swiss master of materials.

Material magic

The focus may be on the movement, but this doesn't mean that the materials have
taken a back seat. Not only is the Rado HyperChrome UTC practical and useful, it
also benefits from a high-tech ceramic case with the ground-breaking Rado monobloc
construction. This ensures lightness, scratch-resistance and comfort, all of which
make for a pleasurable travel experience. With three of the four new models sporting
plasma high-tech ceramic cases, but without the use of any metal, materials really
are still at the forefront of the collection.

With Super-LumiNova® for the indexes and the tips of the hands, the HyperChrome
UTC is just as easy to read at night as during the day. The second time zone hand
features a striking red or blue tip (dependent on the model) to ensure easy reading
even with just a quick glance at the dial.

Lightweight, scratch-resistant and just as at home in the urban jungle as on safari, the
Rado HyperChrome UTC should always be the first item on your packing list.

---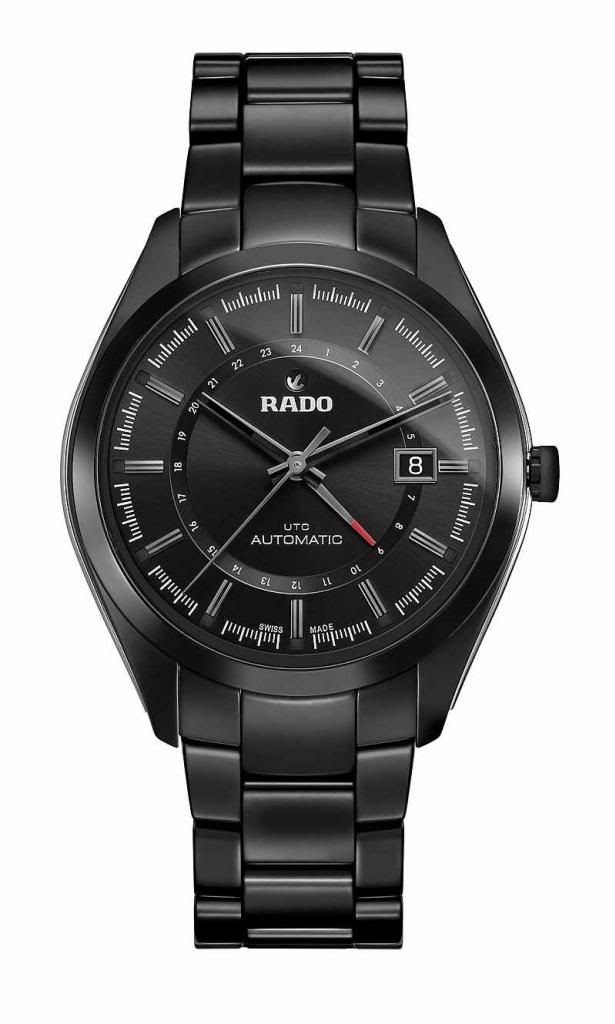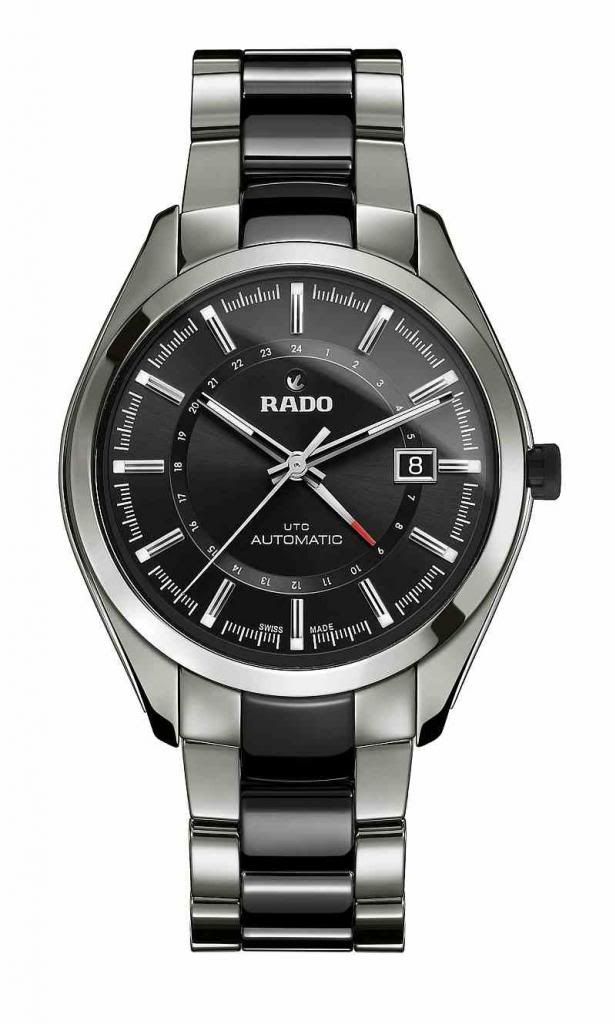 HyperChrome Court models with ceramic bracelet or caoutchouc band, the three colours represent the three sorts of tennis courts: Blue for hard ground, green for grass and orange for sand.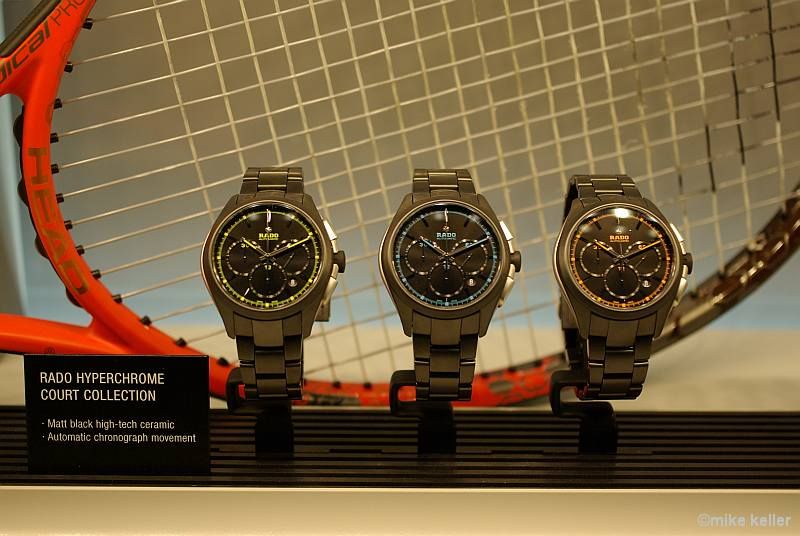 Rado´s press release and pics:


Zitat

---

The Rado HyperChrome Court Collection

Rado serves up another ace with its tennis focused mini-collection

(Lengnau, Switzerland – April 2013) Hard, grass and clay courts are standard fixtures
on the professional circuit in the modern game of tennis and Rado tops the rankings
with the stunning new tennis-inspired mini-collection from its Rado HyperChrome
range. These three new models each represent a different playing surface.

The hard court is represented by the brilliant blue version, grass by gleaming green
and clay by an audacious orange. The dial details and hands of each model contain
Super-LumiNova® to glow in the dark and help you shine – even during long-lasting
endurance matches.

White is normally the colour associated with tennis but Rado is typically
unconventional with its latest offering. Each chronograph is dynamic, determined,
powerful and made of scratch-resistant but lightweight black matt high-tech ceramic.
Sandblasted to perfection for a winning look, matt black high-tech ceramic adds an
extra step in the already complex procedure for producing high-tech ceramic watch
cases.

Hard to beat

These strong looks will ensure you always look cool on court – no matter how hot it
gets, and each super sporty tennis watch can also follow you off court to the pool, the
beach, or – for tennis champions – your yacht.

Whether you prefer to hit from the baseline, run in to the net, or play serve and volley,
the Rado HyperChrome Court Collection is bound to complement your game.
Singles will find it a suitable doubles partner, and when it comes to the style stakes
you'll always be 'in'. Forehands, backhands, volleys and smashes have never been
so well-timed.

Distinctive and eye-catching but with the subtle class and lightweight scratchresistance

associated with all the ceramic models in the Rado HyperChrome
collection, the new Rado HyperChrome Court Collection offers comfort and cool in
one perfectly formed package.

Another ace from Rado.

---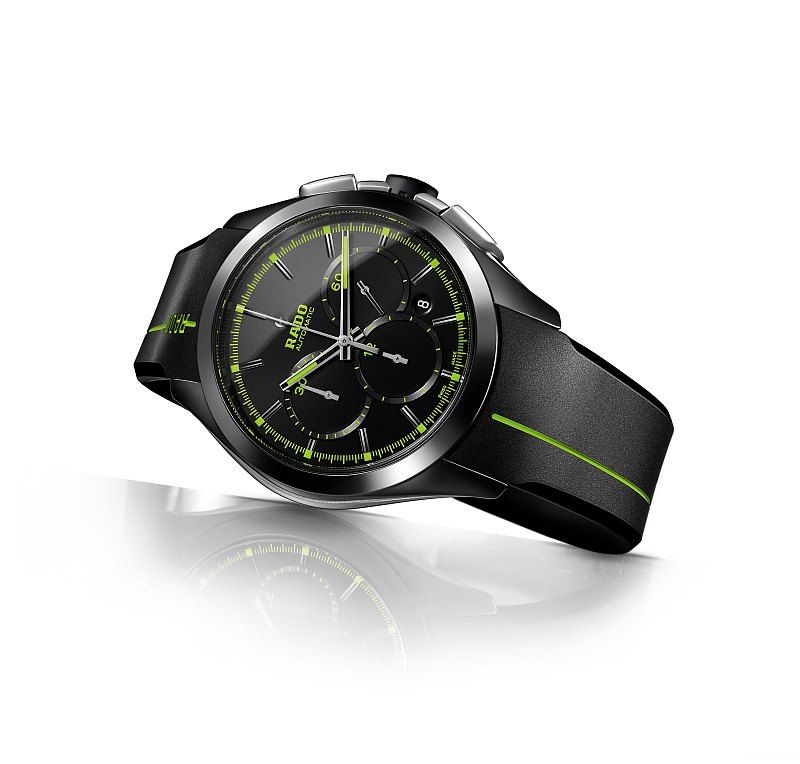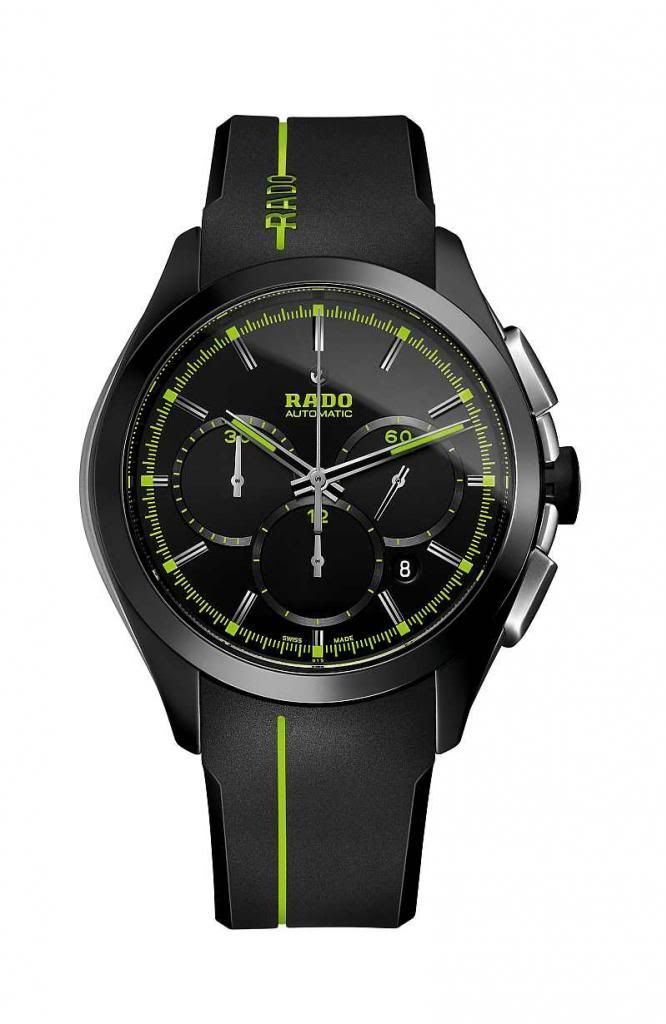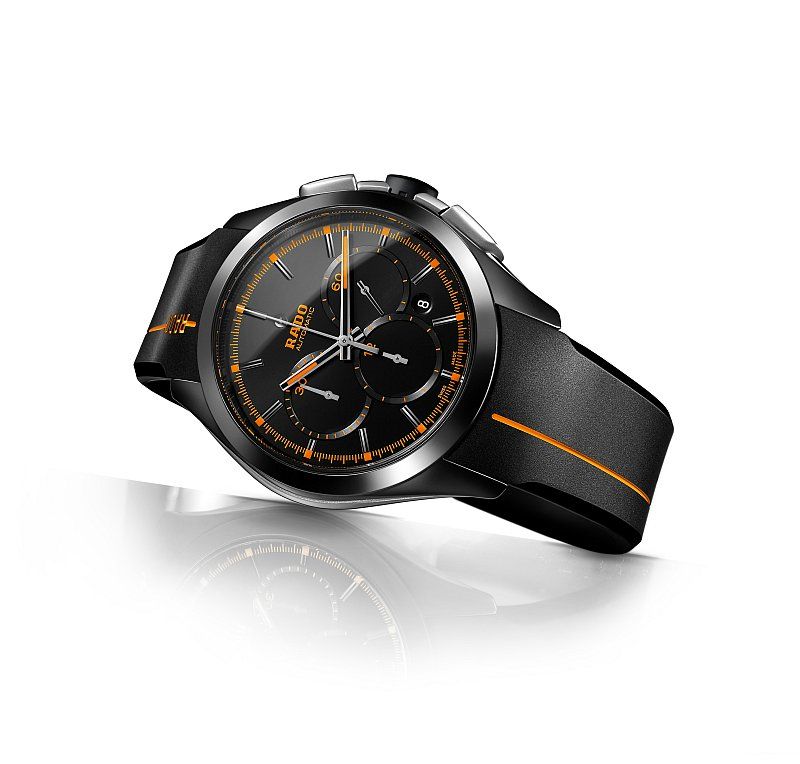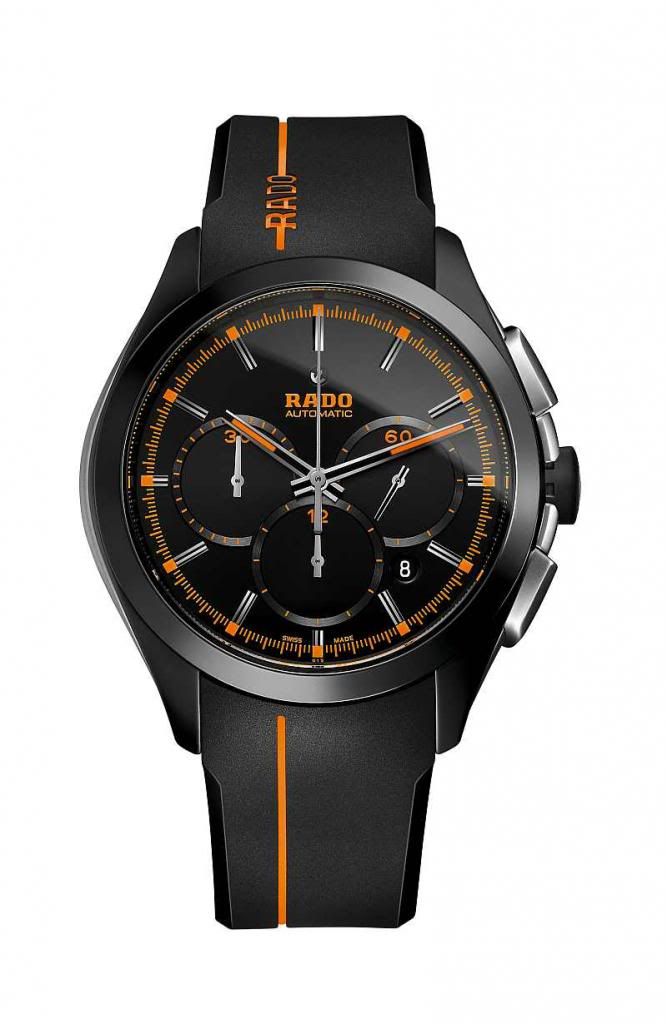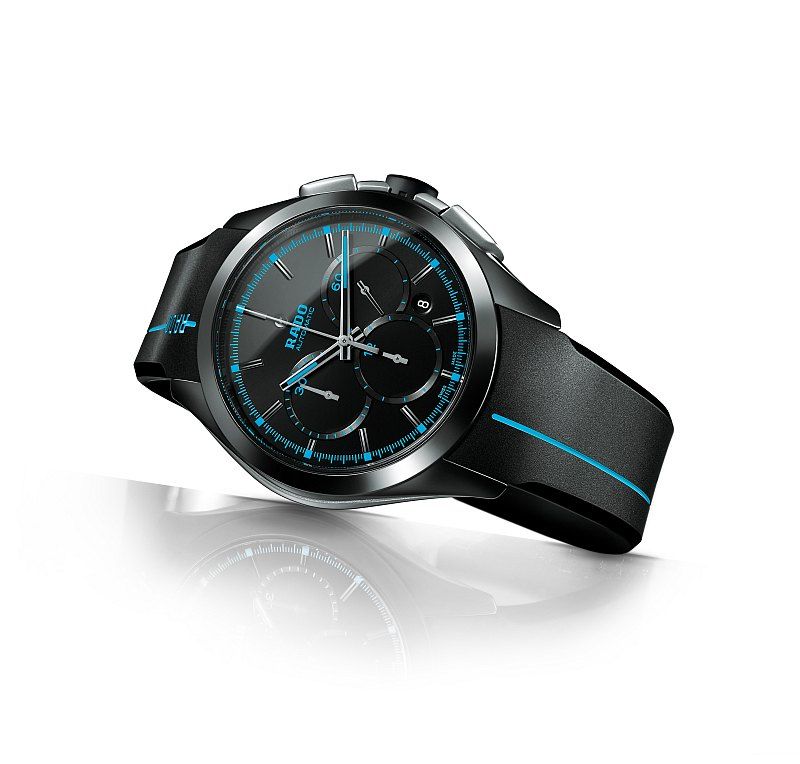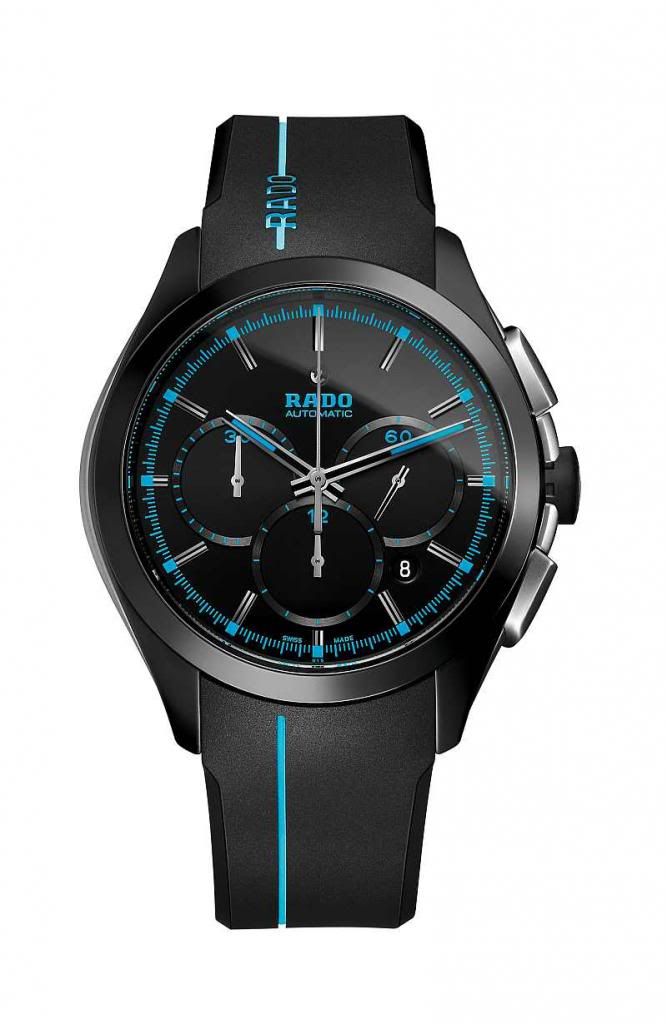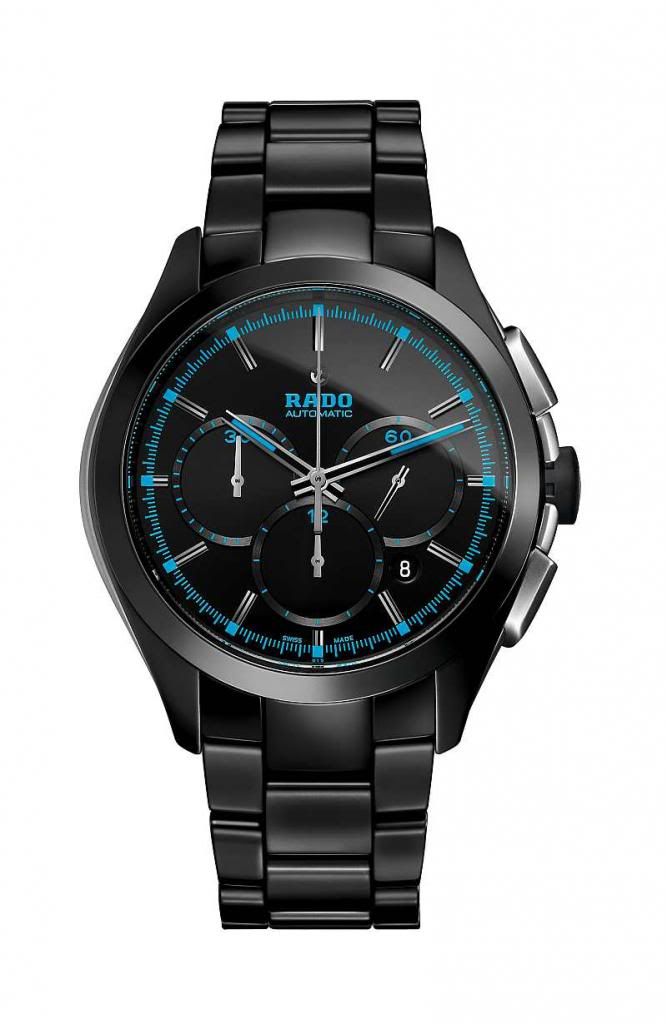 ---
Mit freundlichem Gruß/With best regards
Mike
zuletzt bearbeitet
11.05.2013 00:37
|
nach oben springen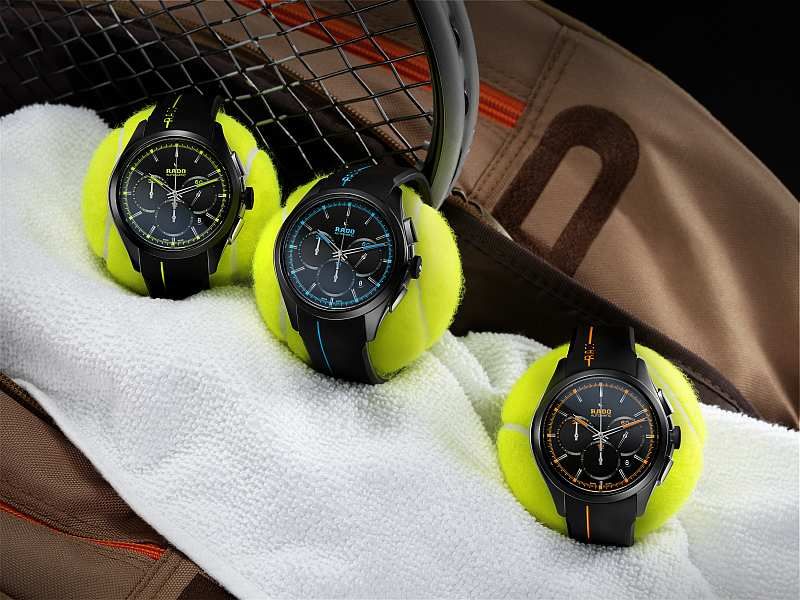 And the HyperChrome Glam Slam models:

Gold(red or yellow) for him: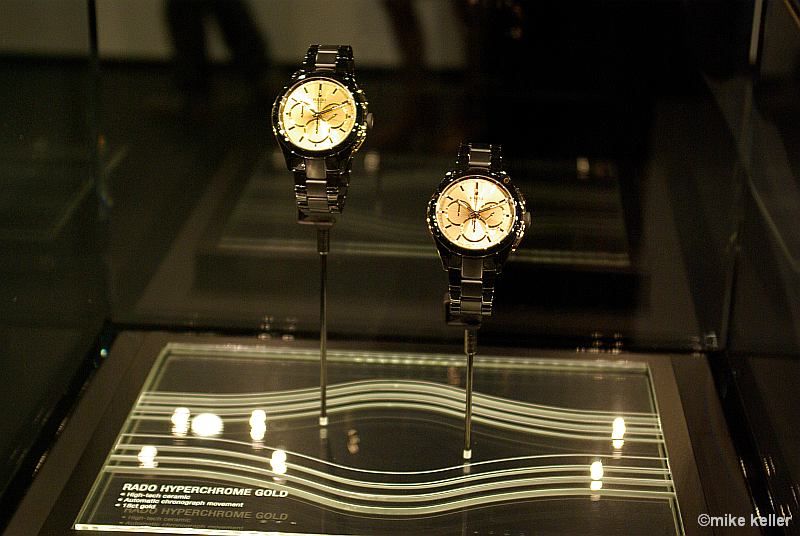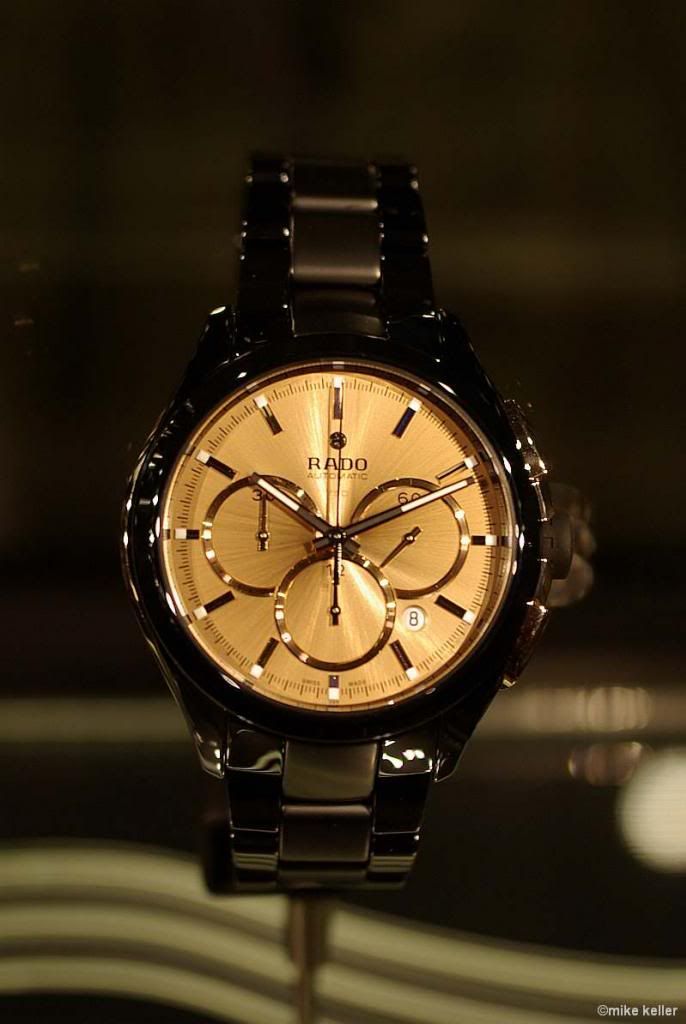 Diamonds for her: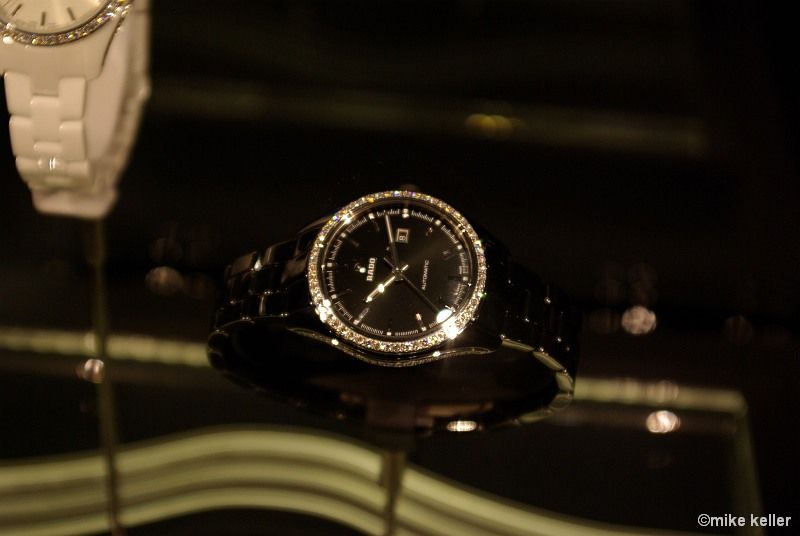 Rado´s press release and pics:


Zitat

---

The Rado HyperChrome Glam Slam mini-collection

Gold and diamonds – a Glam Slam winning combination from Rado

(Lengnau, Switzerland – April 2013) This is the mini-collection that fans of glamour
and the latest technology have been waiting for, as Rado combines the high-tech
materials for which it is famous and some of the world's most precious substances:
diamonds and gold.

And where better to debut these new models than the favourite haunt of supermodels
and superstars: Miami. Home of the renowned tennis 'Glam-Slam', hot days and
glittering nights are the perfect setting for Rado's latest edition of monochrome magic
– each with a very precious twist.

Think big, think bold and think brilliant as that's what the Rado designers did when
creating these new timepieces.

Unrestricted glamour

For gents, gleaming black high-tech ceramic meets pure 18k gold. The two materials
form a perfect fusion for a look of undeniable prestige. Just 333 individually
numbered pieces of this Limited Edition in yellow gold, and 333 in rose gold have
been produced, leaving many collectors disappointed and ensuring that fashion
forward watch fans always look their best courtside and poolside.

At Rado the ladies are just as important as the gents and have a choice of two
models – each dripping in diamonds. Bezels and side inserts with 181 diamonds are
guaranteed to cause a stir and raise an envious eyebrow or two in the VIP box at the
tennis tournament, in the club on Ocean Drive or over sunset cocktails on the beach.

Rado is proud to present unrestricted glamour which is practical as well as sparkling.
The monobloc construction of the high-tech ceramic cases ensures lightness as well
as the superior scratch-resistance which comes as standard with this advanced
material.

Glittering, glamorous and very Miami – with its Glam Slam watches Rado is the
master of style as well as the master of materials.

---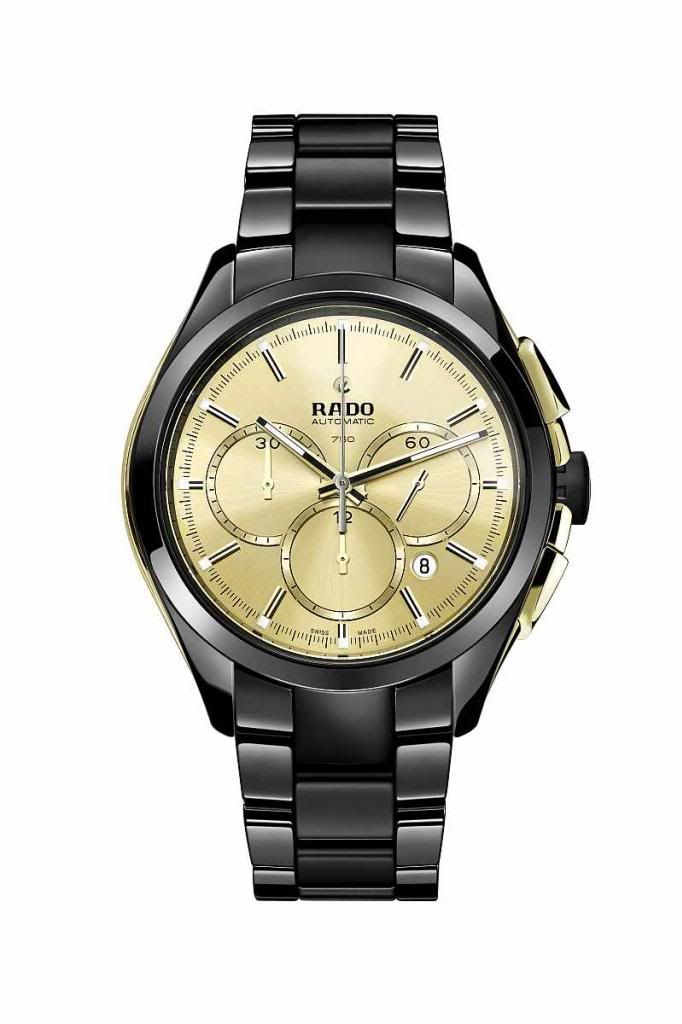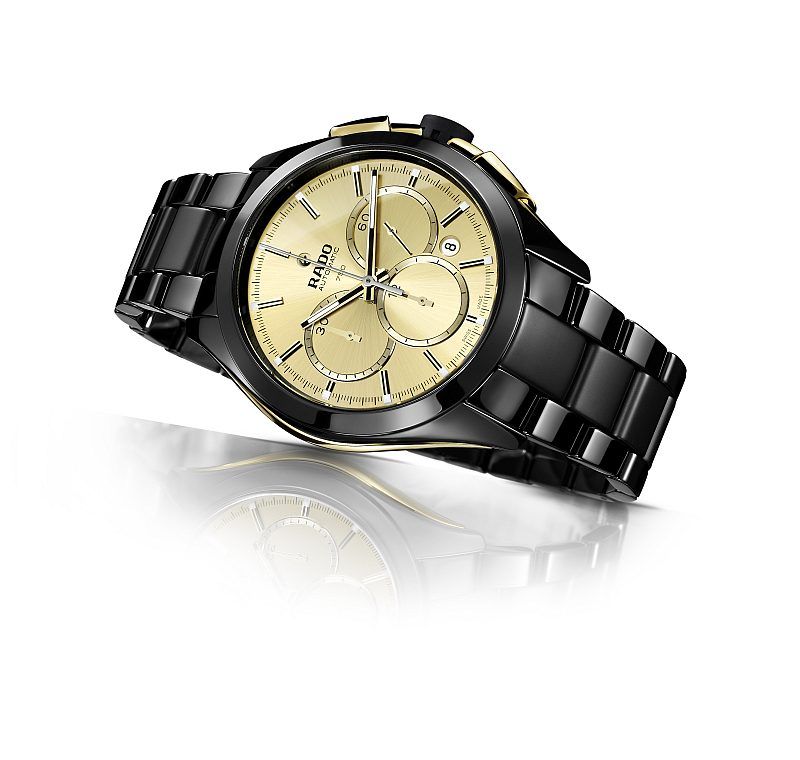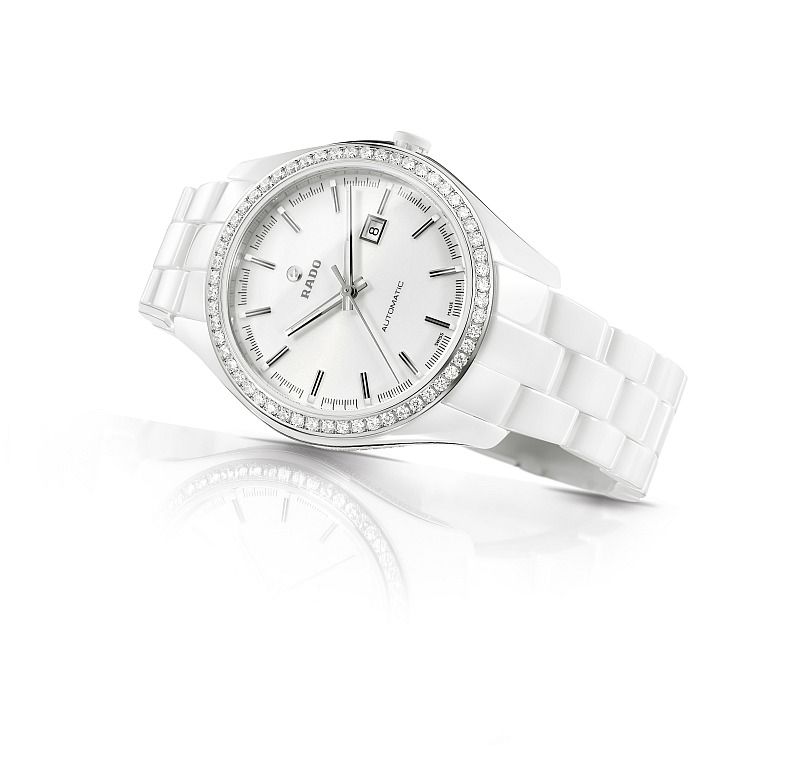 ---
Mit freundlichem Gruß/With best regards
Mike
Some nice D-Star models were also displayed at the Baselworld 2013.

The three hands models with date on leather in different dial- and case colours(silver, gold, rosé):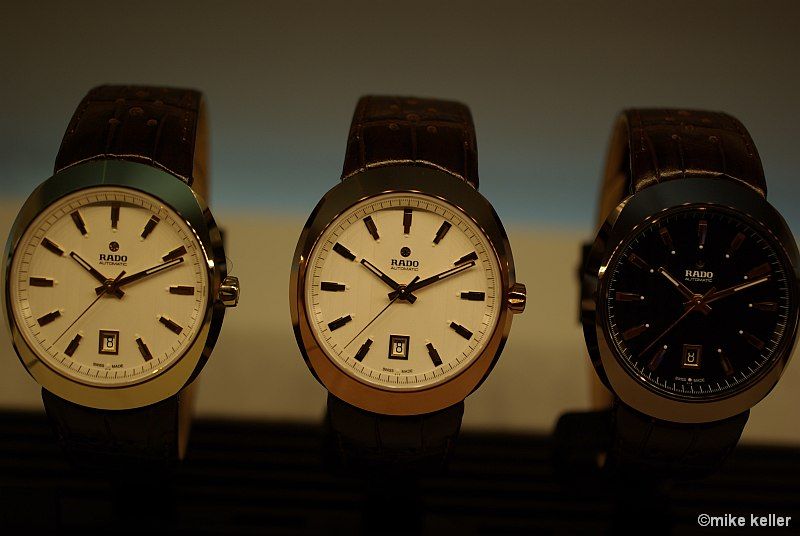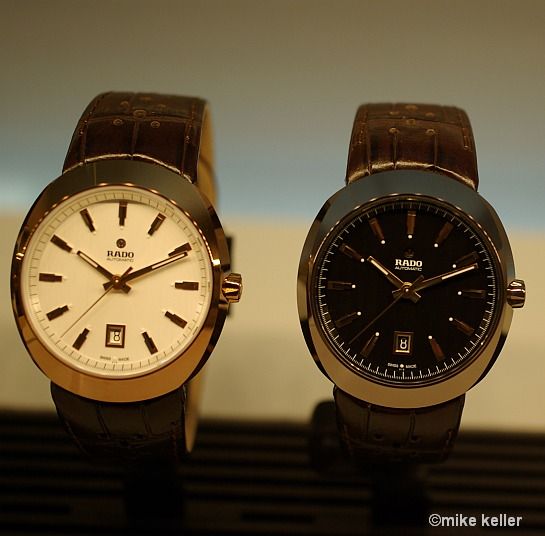 With bracelets, also as chronos with 3 subdials: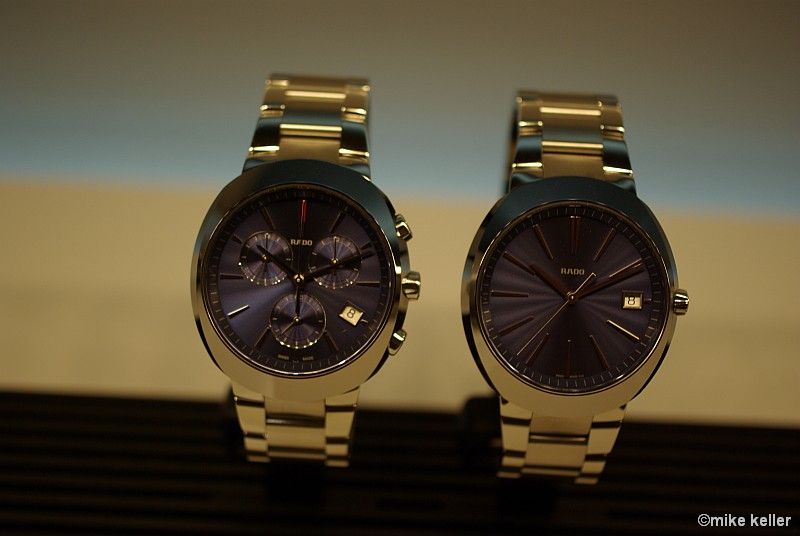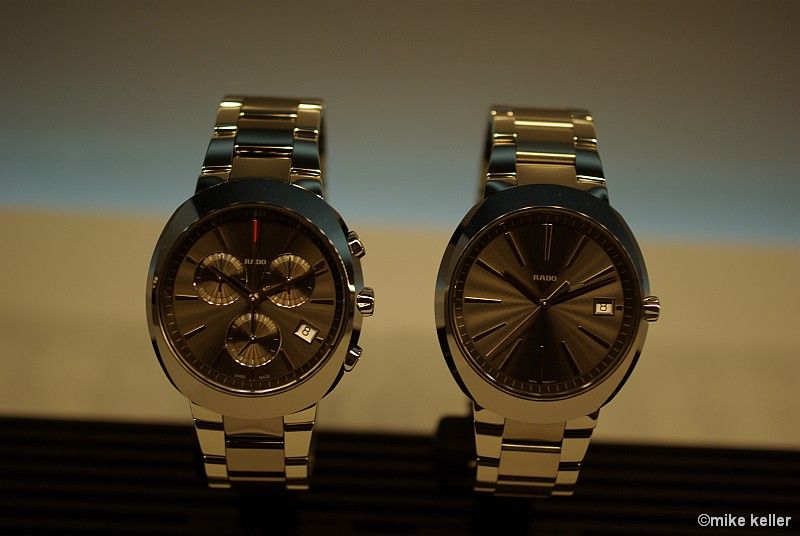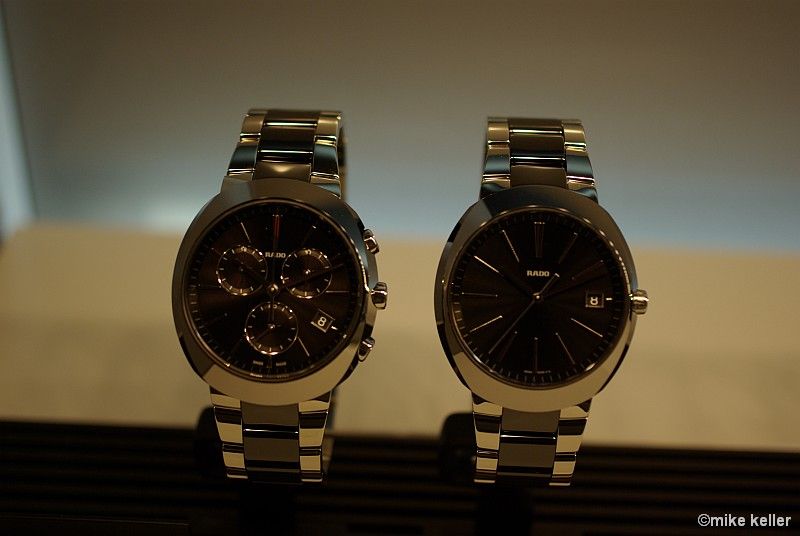 Very classy - the chrono version with 2 subdials:




For me the absolute highlight - the D-Star Chronograph Rattrapante/Split Second LE, an absolute beauty. I really would like to own one of these, but it´s far beyond my budget.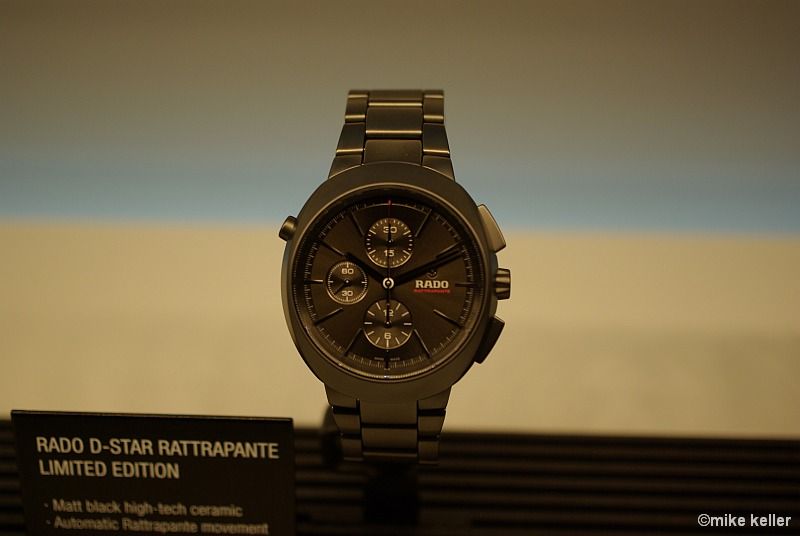 Rado´s pic: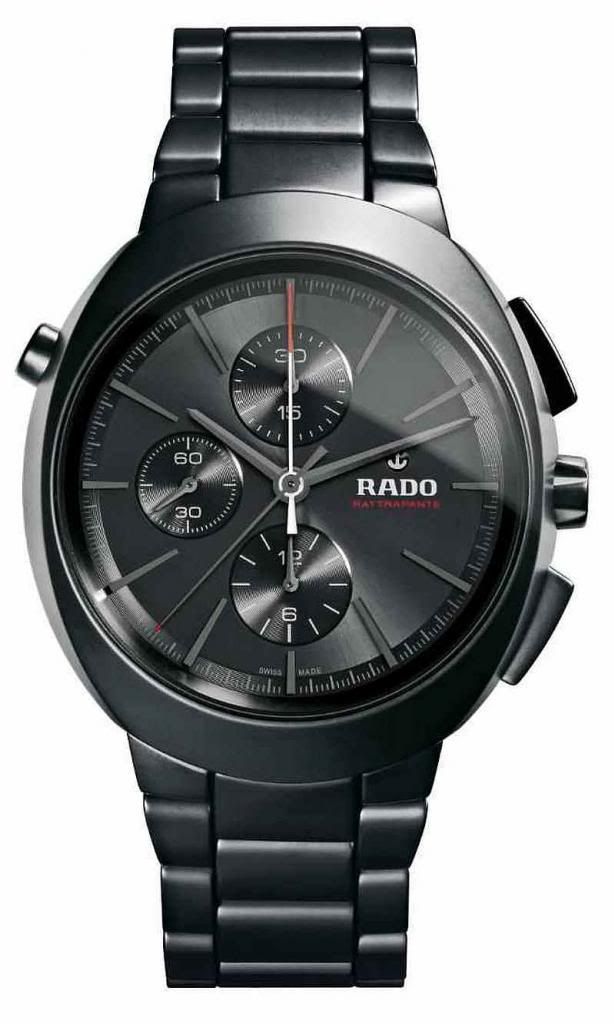 ---
Mit freundlichem Gruß/With best regards
Mike
Last not least, the new Esenza Touch for the ladies with an interesting gimmick: It has no crown,
the time is to set by touching the left and the right side of the case.




Details are described in Rado´s press release:


Zitat

---

Rado Esenza Ceramic Touch - The world's first portable ceramic touch device

Simplicity is the ultimate sophistication

(Lengnau, Switzerland – April 2013) Many have dreamed it but Rado has made it a
reality. A touch controlled watch in full ceramic – and this one is made exclusively for
women. The latest technology and the most emotional of all the human senses unite
for this unique, stand-out product .

Not many companies develop new technology aimed specifically at women. Rado
shows itself once again to be both typically unconventional, and streets ahead of the
competition with the Rado Esenza Ceramic Touch.

Controlled by the gentle press and sweep of a finger along the side of the case – left
for hours and right for minutes – time can be made to fly by or can be turned back in
a single stroke.

Easy to manipulate and a delight to behold this is the ultimate lady's watch. It may
have no crown but is still fit for a queen and there's no danger of ruining your
manicure.

Developed specially by the Rado design team and drawing on years of touch
technology from within the Swatch Group as well as our own expertise in high-tech
materials, this watch is both hard – it's made in full high-tech ceramic – and soft – the
case is a gently curved oval – all at the same time.
Not only will the watch retain its brilliant shine over the years, it also benefits from an
extended battery life of up to 4 years: much longer than a standard quartz watch.

Sensual setting

The monobloc construction of the case, the production of which is carried out under
high pressure using a sophisticated injection process, ensures the success of the
ceramic touch technology.

A watch case made from metal would act as a shield between the outside world and
the circuits inside. As high-tech ceramic is an insulator this watch gives the wearer
the power to influence the electrical circuit at its heart. The electrodes can 'feel' the
presence of a fingertip on the case through the ceramic.

As this watch is all about touch, it should be worn on the wrist during setting, the skin
in contact with the stainless steel case back ensures that the Rado Esenza Ceramic
Touch becomes an extension of the body.

The six new models in this collection - three black and three white - represent the
first references in a series of product developments to come.

More than 50 years ago Rado revolutionised the watch industry with its use of
unconventional materials. In 2013 Rado has taken the same risks needed to be
successful all those years ago and the result is a world first.

Simplicity at its most sophisticated.

---
Zitat

---

Rado Esenza Ceramic Touch – Technical description

The science behind touch-sensitive timing

(Lengnau, Switzerland – April 2013) Rado has introduced a breakthrough in timing
technology with the launch of the new Rado Esenza Ceramic Touch. The Rado
technical and materials teams worked with a team of watchmaking experts to ensure
the touch sensitive technology was flawless – just like the design of the watch.

Rado's more than 25 years of expertise with ceramic was an immediate advantage
as ceramic is a natural insulator. As ceramic does not conduct electricity it is an ideal
material for a touch sensitive device.

The quartz movement, made up of a number of essential components, includes two
chips, which are loaded with the software that governs the watch. The movement sits
neatly inside the high-tech ceramic case. Nestled between the movement and the
monobloc ceramic case are four electrodes, positioned at 2, 4, 8 and 10 o'clock.

When a fingertip influences the electrode through the ceramic case, it acts as a stray
capacitor, modifying the frequency of an oscillating circuit.

The detection of the movement of a fingertip in a certain sequence on the case
instructs the chip to allow the motor to move the hands, thus allowing the time to be
set and reset through touch alone.

The stainless steel case back of the watch is also an essential component as it
"connects" the watch to the body, which acts as a reference for the electronic circuit.
For this reason – and due to the fact it has no crown – the Rado Esenza Ceramic
Touch can and should be worn on the wrist during setting.

A guide to setting the Rado Esenza Ceramic Touch

1. Position the watch on the wrist
2. To activate the touch functions and put the watch into setting mode, touch
the case at 8 o'clock for approx. 5 seconds then immediately slide your finger
along the right hand side of the case. The watch gives a short 'beep'.
3. To set the hours, slide your finger along the left hand side of the case in a
clockwise direction to move forward and in an anti-clockwise direction to
move back one hour.
4. To set the minutes slide your finger along the right hand side of the case in a
clockwise direction to move forward and in an anti-clockwise direction to
move back.
5. To move the minutes forward faster, maintain pressure on the case at 4
o'clock and at 2 o'clock to move the minutes backwards faster.
6. To exit setting mode touch the watch at 8 o'clock for at least 2 seconds. The
watch emits two small 'beeps'. Setting mode is now deactivated.

---
Zitat

---

Rado Esenza Ceramic Touch Quartz

Movement 11 ETA F10.101, quartz, 5 jewels, 2 hands, touch without crown, no date
Black models
Ref: 277.0093.3.071/277.0093.171/277.0093.3.015
Case polished black high-tech ceramic
pressed-on stainless steel case back with black PVD coating
toric sapphire crystal
water-resistant to 3 bar (30m)
Dial 071/171 black, jubilé, 4 diamonds, 120/125, Top Wesselton, full cut, 0.028 carat
silver coloured printed Rado logo
Dial 015 black, 12 rhodium coloured applied indexes
silver coloured printed Rado logo
Hands rhodium coloured
Bracelet 071/015 3-row polished black high-tech ceramic
titanium 3-fold clasp
Strap 171 black satin fabric
stainless steel buckle

White models
Ref: 277.0092.3.071/277.0092.3.171/277.0092.3.001
Case polished white high-tech ceramic
pressed-on stainless steel case back
toric sapphire crystal
water-resistant to 3 bar (30m)
Dial 071/171 white, jubilé, 4 diamonds, 120/125, Top Wesselton, full cut, 0.028 carat
silver coloured printed Rado logo
Dial 001 silver, 12 rhodium coloured applied indexes
silver coloured printed Rado logo
Hands rhodium coloured
Bracelet 071/001 3-row polished white high-tech ceramic
titanium 3-fold clasp
Strap 171 white satin fabric
stainless steel buckle

Dimensions 33.0 x 42.0 x 8.4
(WxLxH in mm)

---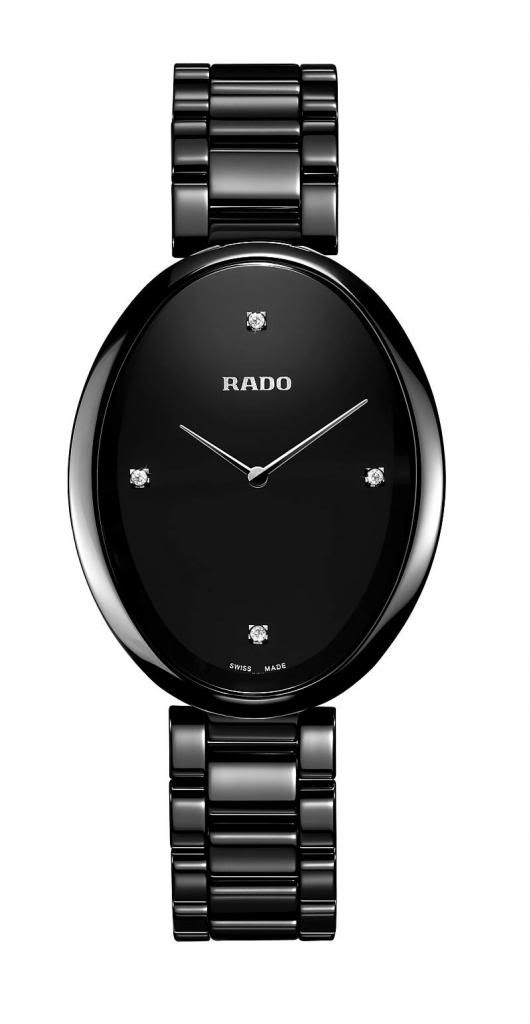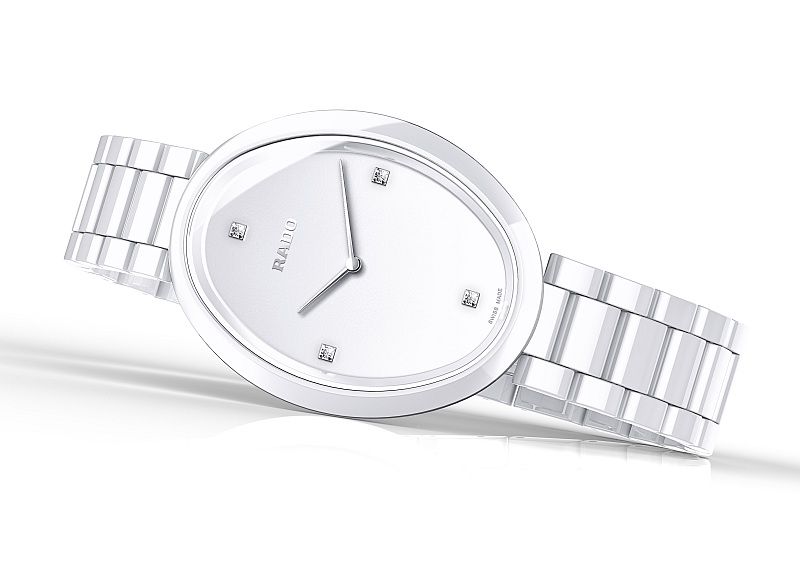 ---
Mit freundlichem Gruß/With best regards
Mike
zuletzt bearbeitet
11.05.2013 00:32
|
nach oben springen
Besucher 0 Mitglieder und 2 Gäste sind Online

Wir begrüßen unser neuestes Mitglied:

John Martin

Forum Statistiken

Das Forum hat 101 Themen und 387 Beiträge.

Heute waren 0 Mitglieder Online:
---